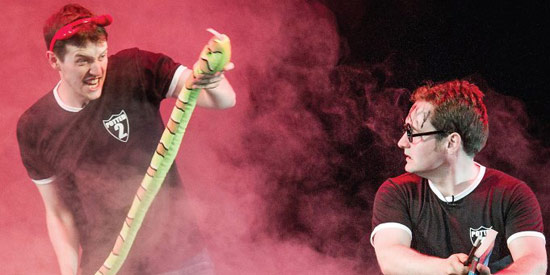 ---

It's the most hilarious 70 minutes you can experience and thanks to Lunchbox Theatrical Productions Ltd and Potted Productions, Filipino audiences got to engage once more in the unauthorized Harry Potter experience crafted by creators Daniel Clarkson and Jefferson Turner.


This 2013, the RCBC auditorium was again the venue for Potted Potter, the parody that is surely setting high standards for parodies everywhere else. It claims to provide theatergoers the chance to go through all seven Harry Potter books in a mind-boggling 70 minutes.


The reason for their return is because Filipino audiences simply couldn't get enough of Potter Potter when it first came to Manila as part of their world tour. The audience got treated again to the lovable antics of the show's now primary performers, actors Gary Trainor and Jesse Briton.


"We are starting and finishing our tour in Manila, and we have been away for five months. At first we were scared, but this time we are much more relaxed, we play a lot more," says Gary Trainor.
ADVERTISEMENT - CONTINUE READING BELOW

Having Gary Trainor as Harry Potter and Jesse Briton as all the other characters in the books proved to be very interesting for audience members. The two actors, both seasoned theater performers, deliver really well in giving everyone lots to laugh about.


Like their last run, they incorporated local culture and punch lines into the material, referencing Ateneo, Eraserheads, EDSA and more which proved to be real crowd pleasers.


"We definitely recycled some from the first run, the ones that we quite liked from the last time, and then we added a couple of new ones, like more contemporary ones from things happening now," shares Jesse Briton.


There is also a big build up to the dragon in book four, because Jesse keeps explaining to Gary that the reason they didn't get the expected 20 actors to help them in the play is because of the dragon; or why they don't have the majestic Hogwarts castle, or get a big snake to play the basilisk in Book 2 is because of the dragon and so on. When the dragon finally makes his grand entrance when book four is told, the audience can't help but cheer and break out into guffaws at the dismay displayed by Gary.


Transitions between books are also well-executed, as either Gary or Jesse or both do this endearingly awkward side step dance set to music to signal the start of a new book.


Audience involvement also accounts for a lot of the spontaneity in this 70-minute parody, because both actors need to adjust major parts of their telling of book four to account for audience participation. The biggest chunk of this happens when the actors ask the audience to serve as members of opposing Quidditch teams. There is an actual Quaffle that needs to be put through the other team's hoop and two audience members are even asked to join the two actors on stage as Seekers.


"When we started doing the Quidditch part and others with an audience, we were scared, but then we started to enjoy it, and we have to thank the audience for their interaction because the audience here in Manila have genuinely been the best," explains Jesse. He goes on to say that this is the truth and not just because he is in Manila saying these good things about the Filipino audience.


Jesse also reveals that his favorite book is Goblet of Fire. He started reading when the books first came out, unlike the character he plays in the parody, who doesn't know a thing about the books but pretends to, and then surprisingly finishes book seven within the 70 minutes of the play. Also, Jesse had to contend with two sisters, one younger and one older, who got to read each new book ahead of him.


Gary's favorite he says, "used to be the third book, because I read it first when I was still really young and there was like the huge twist in it. But now it is the Goblet of Fire because upon reading it again...but still, I like them all!"


In the actors own words, Potted Potter is, "lots of fun, manic, Harry, and tasty!"


What started as a five minute sketch of the five books on the streets of London in 2005, commissioned by a book store to entertain consumers waiting at midnight for the release of book six, has bloomed into a nominated and well-loved parody the world over. Potter Potter is indeed worth all of its now 70 minutes and the brilliant tandem of creators Dan and Jeff is busy working on Potted Panto.


For now, Potterheads, who have missed Harry Potter since the last movie came out in 2011, have been blessed with the chance to briefly apparate once again into Harry Potter and Hogwarts thanks to Potted Potter.


ADVERTISEMENT - CONTINUE READING BELOW