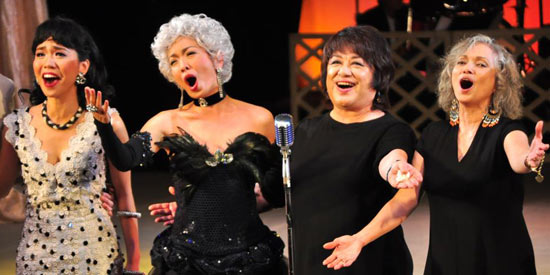 ---
Spotlight Artists Centre proudly announces that Katy The Musical will be restaged at the Meralco Theater from July 25 to August 4, 2013.
Based on the inspiring story of legendary jazz chanteuse Katy dela Cruz, the critically-acclaimed revival production of Ryan Cayabyab and Jose Javier Reyes' landmark musical had its limited run at the CCP Little Theater last January 17-27.
Directed by Nestor Torre, Katy featured a powerhouse cast which included Tirso Cruz III, Dulce, Epy Quizon, Tricia Amper-Jimenez, Lou Veloso, Gian Magdangal, and promising triple threat upstart Aicelle Santos.
"It has been barely two weeks since that last curtain call for 'Katy The Musical,' and yet the deafening applause still keeps ringing in my ears," reminisces lead star Isay Alvarez-Seña.
There's this popular catchphrase from the Kevin Costner movie, Field of Dreams, that goes: "Build it, and they will come.'
Judging from the fully-packed performances, enthusiastic audience response, and the very generous reviews they've garnered during the limited run, Isay and the entire production team feel vindicated knowing that they've built a beacon of hope and inspiration for the local theater industry and OPM music as well.
ADVERTISEMENT - CONTINUE READING BELOW
From their vantage point from the stage, what's even more heartening is seeing people from different generations bound by their shared passion for the stage.
Moreover, Isay adds, "As for myself, I'm proud to share that one of the unexpected highlights during our staging of Katy was when Celeste Legaspi and Mitch Valdes (who produced and starred in the musical's very first run in 1988 at the now-defunct Rizal Theater) went backstage to congratulate the cast, and gave their permission for us to do another run."
In line with its thrust of promoting the theater arts, Spotlight Artists Centre, headed by Robert Seña and Isay Alvarez-Seña, announced that they will soon be holding summer workshops for musical theater and tap dance.
Interested show buyers may also avail of premium discounts for special booking packages with guaranteed return on investment.
For more details, log on to www.spotlightartistscentre.com or call Tel. No. 899-8089 for more details.
ADVERTISEMENT - CONTINUE READING BELOW