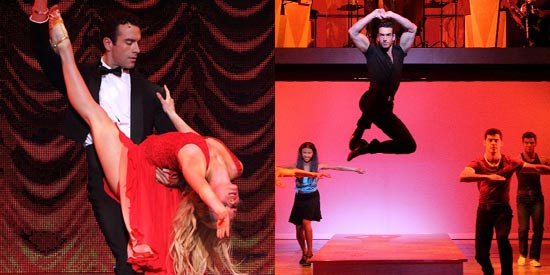 ---

The worldwide smash-hit musical, Dirty Dancing--The Classic Story on Stage, will be seen at the CCP Main Theater starting on the 4th of July. Tickets for the 22 shows are now available to the public starting April 1.


The show has been seen by millions across the globe, and greeted with nightly standing ovations and praise from critics. Dirty Dancing--The Classic Story on Stage now comes to Manila for the first time.


Presented in Manila by Visa, Dirty Dancing--The Classic Story on Stage is written by Eleanor Bergstein, script writer and co-producer of the phenomenally successful 1987 movie. The production features all the much-loved characters and original dialogue from the iconic movie with exciting extra scenes added in.


The tantalizing dance sequences and brand new choreography come alive on stage, set to all the hits from the unforgettable movie soundtrack, including "Do You Love Me?","Hungry Eyes" and the Academy Award Winning "(I've Had) The Time Of My Life", plus many additional songs, making the show a truly extraordinary live experience.


The 2013 version features a cast of 35 who sing a score of 55 songs played by a live orchestra; 73 scene changes, which are lit by 200 moving lights; and 21 costume changes for Baby alone. Producer James Cundall, CEO of Lunchbox Theatrical Productions, says about the show, "Dirty Dancing is a true spectacular you will not want to miss! We are very excited to be bringing this hugely popular musical to Filipino audiences.


"The iconic coming-of-age film has been turned into a musical sensation which matches the film's status. With groundbreaking sets, fabulous '60s costumes and the breathtaking dancing for which the show is renowned, Manila audiences are in for the time of their lives."



SYNOPSIS. It's the summer of 1963, and 17-year-old girl Frances 'Baby' Houseman is about to learn some major lessons in life as well as a thing or two about dancing. On holiday at a resort called Kellerman's with her older sister and parents, 'Baby' shows little interest in the resort activities, and instead discovers her own entertainment when she stumbles upon the staff quarters where an all-night dance party is in full swing. She discovers an underworld of young men and women who spend all their free time dancing. She is mesmerized by the dance moves and the pounding rhythms and 'Baby' can't wait to be part of the scene, especially when she catches sight of Johnny Castle the resort dance instructor. 'Baby's' life is about to change forever as she is thrown in at the deep end as Johnny's leading lady, both on-stage and off, with breathtaking consequences.


LIVE THEATER SENSATION.

Dirty Dancing--The Classic Story on Stage broke records in the U.K. and Germany for having the highest advance ticket sales in history. Before it even opened in London, the show had sold-out for the first six months of its run. It went on to become the longest running show in the history of the Aldwych Theatre, London. To date, over one million audience members have seen the show in the UK, totalling box office sales in excess of £25 million.


Dirty Dancing--The Classic Story on Stage has been enjoyed across the world in Toronto, Canada; Utrecht, Holland; and a North American Tour including Chicago, Boston and L.A. Current productions worldwide include the first ever national tour of the U.K. and Ireland, where it has broken box office records in several U.K. cities so far, including Glasgow and Aberdeen with an advance of over £22 million; and most recently Stockholm, Sweden, which opened on 14th February 2012.


Dirty Dancing--The Classic Story on Stage in Manila is produced by Pieter Toerien, Hazel Feldman, Karl Sydow, Lunchbox Theatrical Productions, David Atkins Enterprises and Joye Entertainment, Hi-Definition Radio, Inc. and Concertus in association with Lionsgate and Magic Hour Productions.


Call Tel. No. 891-9999 and watch for exclusive promos on www.ticketworld.com.ph. Ticket prices for weekdays are P6240, P5200, P4680,P3640, P2080, and P1560. For weekends, P6760, 5720, P4680,P3640, P2080, and P1560.


For more information and updates, check out www.dirtydancingasia.com and like www.facebook.com/ConcertusManila on Facebook.


ADVERTISEMENT - CONTINUE READING BELOW