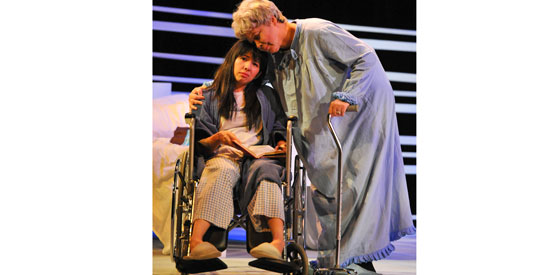 ---
Mind's Eye, a play based on an award-winning novel of the same name, will be restaged from September 6 to 8 at the Carlos P. Romulo Auditorium, RCBC Plaza, Makati City. With an array of theater productions in town, here are 10 reasons why Mind's Eye is worth watching:


1. Mind's Eye is written by Paul Fleischman, an acclaimed author of books for children and young adults.
Paul Fleischman is an award-winning writer of books for children and young adults. Last year, he was one of the five nominees for the 2012 Hans Christian Andersen Award, an annual international award given to a living author and illustrator whose complete works have made a lasting contribution to children's literature. Fleischman was named by The U.S. Board on Books for Young People as the United States' nominee for this prestigious award. He also founded the tongue-in-cheek grammar watchdog groups ColonWatch and The Society for the Prevention of Cruelty to English.


2. Mind's Eye is an award-winning novel.
Mind's Eye received an American Library Association (ALA) award for Best Books for Young Adults. Kliatt magazine also called it "a paean to the power of the imagination." It seeks to convey to young adults the importance of reading and exposure to the arts but it is also a message that all ages can benefit from.


3. Mind's Eye will take you to a fantasy journey to Italy.
Mind's Eye takes audiences to Italy's charming locales as the two characters' sojourn unfolds in a quiet room in North Dakota. For their own reasons, 88-year-old Elva and 16-year-old Courtney use their imagination and a 1910 Baedeker travel guidebook to free themselves from the four corners of their nursing home. Mind's Eye brings you on a tour across Italy's vibrant cities including Naples, Rome, and Florence.


ADVERTISEMENT - CONTINUE READING BELOW
4. Mind's Eye promotes appreciation for the arts.
Mind's Eye takes you on a fantasy journey to some of the world's greatest museums, art galleries, and architectural monuments around Italy. Characters Elva and Courtney even visit the Uffizi Gallery in Florence, which houses the world's most vast and varied collection of important Renaissance art—including Michelangelo, Leonardo da Vinci, Raphael, and Botticelli, among many others.


5. Mind's Eye is rich with references to famous literary pieces.
In the story, Elva is a former literature and drama teacher, which explains why she is steeped in the knowledge of literature and art. Her conversations with teenaged Courtney are full of references to popular literary figures and subjects, including John Milton's History of the Conquest of Mexico, English poet William Blake, Greek mythology, My Fair Lady, The Arabian Nights, A Christmas Carol, among many others. Literature students and enthusiasts will surely delight upon hearing a line or two from these literary pieces.


6. Mind's Eye is a heartwarming story about relationships.
Elva, a former teacher, meets Courtney in a nursing home in North Dakota. The teenager is paralyzed from the waist down from a riding accident. Together, they overcome their physical limitations to take a shared imaginary trip to Italy. Each of them travels for her own reasons, but their trip takes an unexpected turn.
7. Mind's Eye features a talented cast.
Seasoned thespian Joy Virata will essay the role of Elva while Jenny Jamora will play Courtney. Joy is a consultant for Audience Development of Repertory Philippines (REP) and the founder and artistic director of REP's Theater for Young Audiences. A trained singer of classical music, Joy has 37 years of experience in the theater. Jenny is an Aliw Award-nominated actress and has an impressive theatrical credits both in the Philippines and in international productions. Other powerhouse cast members include Caisa Borromeo, Red Concepcion, and Naths Everett, with the special participation of renowned theater actress Naty Crame Rogers.


ADVERTISEMENT - CONTINUE READING BELOW
8. Mind's Eye is helmed by a veteran stage director.
Veteran theater director Jaime del Mundo was at the helm of the worldwide theatrical debut of Mind's Eye last year. He is directing the play once again this year. Del Mundo's love affair with theater goes back to 1978 when he joined Repertory Philippines. As Repertory's resident actor, he appeared in over 50 plays. In 1989, Jaime made his directorial debut in Peter Brook's The Story of Carmen. He has since directed a number of plays both here and abroad.


9. Mind's Eye celebrates the power of imagination.
Mind's Eye will ultimately show audience what a powerful—even dangerous—tool imagination can be. The play will share lessons on how to further enhance your mental skill or power by reading literature and poetry and developing an appreciation for the arts. Mind's Eye will also encourage audiences to dream and harness the power of their imagination. After all, dreaming entails a lot of imagining what you would want to achieve.


10. It's a great way to bond with your family on Grandparents' Day!
What better way to celebrate Grandparents' Day on September 8 than to bring the whole family to watch Mind's Eye? The play will take you back to the fun and quality time you spent with your lolos and lolas.