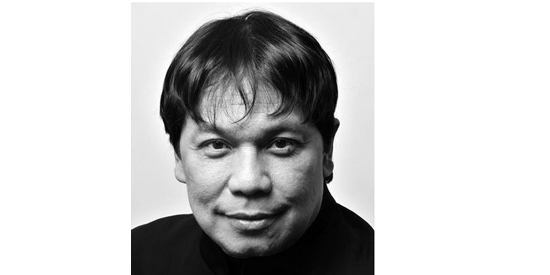 ---
Three reasons to watch The Maids:
This drama of two housemaids acting out repressed hatred and rebellion against their oppressive Madame, written by French playwright-novelist-poet Jean Genet (1910-1986), was first performed in Paris in 1947. Over the decades it has been performed in Britain, Canada, Australia, and Manila.
In 1969, PEP and Yes! editor-in-chief Jo-Ann Maglipon, then a student at Maryknoll College, played the maid Claire under the direction of playwright-educator Paul Dumol for Rolando Tinio's Ateneo Drama Group in Ateneo University. Jo-Ann performed with her best friend Nieves Campa as Solange and Maryknoller Cherry Mercado (now US-based) as Madame.
And for the best reason:
Director Anton Juan—whose achievements in theater and education have earned him awards both here and abroad—mesmerizes the audience with his interpretation of Genet's illusion-and-reality play.
As Genet had intended when he wrote the play, the sisters are played by male actors: Dr. Anton Juan as Solange and accomplished thespian Topper Fabregas as Claire. In the preview on August 8, Madame was played by Jay Valencia Glorioso whose "credits range from dance to drama, music theatre, opera and feature films."
The plot looks simple. As the playbill puts it,
"Solange and Claire are two housemaids who construct elaborate sadomasochistic rituals when their mistress (Madame) is away.The focus of their role-playing is the murder of Madame and they take turns portraying both sides of the power divide. Their deliberate pace and devotion to detail guarantees that they always fail to actualize their fantasies by ceremoniously 'killing' Madame at the ritual's dénouement."
The drama, however, is a series of encounters on different significant planes.
Before the play begins, an opulent set representing an aristocratic mistress' bedroom meets the eye: dressing table crowded with cosmetics and bottled perfumes, a gold-brocaded red gown hanging on a mannequin, faux orchids and real red roses in ornate vases, more gowns in an open closet, French divan and expensive floor rugs.
ADVERTISEMENT - CONTINUE READING BELOW
Audience seats are arranged in a wide semi-circle around the set. Thus, intimacy is created not only by the actors' intense performances. If you're seated on the front row, you can touch them at arm's length.
The mirror spanning one wall reflects the whole set and dramatic action, and conveys as well the illusions or fantasies arising from the three-dimensional reality of the play.
(As incoming spectators started filling the black monoblocs, Solange sat on the red divan, inflating a latex glove while Claire tweaked the flowers. I thought the play was starting, felt bothered by lively talk going on in the audience. Only when Production/Stage Manager Karla Pambid entered to announce the play's opening did I snap out of my 'illusion'.)
Solange and Claire own the stage in alternately pretending to be Madame. Claire takes the first turn by putting on makeup at the dressing table and overpowering the meek Solange with a barrage of humiliating insults and commands.
The red gown that Solange puts on Claire at the latter's bidding underscores their class divide—Solange, the kitchen-dirty slave; Claire/Madame, the untouchable socialite. Yet as they stand before the mirror, they see two maids who share hatred for Madame.
The maids play out their past dark secrets, like Claire's fantasy about "Madame" fleeing with her thief of a husband, which she had written in an anonymous letter to the police, causing his arrest. One of the most gripping scenes is when masochist Solange turns cruel and, rage reverberating loud enough to break the mirror, beats Claire with a horsewhip.
"Reality" takes over when the telephone rings, Madame's husband calling to say he has been released on bail. The maids panic. Madame will arrive when the alarm clock, which Claire had set on a side table, goes off. The maids connive to murder Madame with pills in her tea.
ADVERTISEMENT - CONTINUE READING BELOW
Madame enters in all her finery. The maids pamper Madame as she emotes her angst about growing old and dreams her escape with Monsieur, exactly as Claire had fantasized. Madame gives Claire the red gown and to Solange her luxurious fur cape. But when the maids are forced to reveal that Monsieur is waiting for her, Madame reverts to her usual domineering and then rushes out with the cape.
The maids resume their ritual—Claire looking like a bride in Madame's white gown; Solange agonizing from cowardice to her final murderous resolve, and at last claiming, in her monologue addressed to an imaginary police chief, her executioner, and all maids—freedom.
The spellbound audience gave the ensemble performance a standing ovation. Jay Glorioso conveyed the flamboyant Madame's ego tripping and false charity with humor. Toppel Fabregas appeared larger than life, especially when Claire swept the stage in Madame's gowns.
And who can match Dr. Anton Juan's Solange in her abject fastidiousness and sadistic cruelty? Only the Director, of course.
The Maids is produced by the Theater Actors Guild and Musicartes, Inc. Playdates: August 8-11, 15-18 at 8PM, with 3PM performances on August 11 and 18. Venue: The Mirror Theater Studio, 5th flr SJG Centre, 8463 Kalayaan Ave., Makati City.Tickets @Php300. For tickets and bookings please call Karla 09175343223 or Musicartes 8958098.
Other top actors playing Madame on different dates are: Liza Diño, Gwyn Guanzon, OJ Mariano, Peter Serrano, Jenny Jamora, Joel Saracho, and Meryll Soriano.