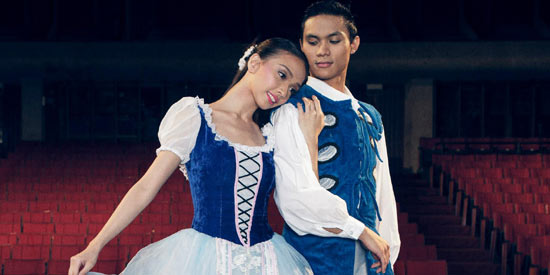 ---
PRESS STATEMENT

Widely recognized as the cornerstone of the Filipino cultural identity, Ballet Philippines presents a grand restaging of the classical romantic tragedy Giselle, from August 16 to 18 at the CCP Main Theater.
Formally opening its 44th season, IllumiNATION, Ballet Philippines' Giselle also features live music from The Philippine Philharmonic Orchestra on its shows on August 16 (Friday) at 8pm and August 17 (Saturday) at 6pm.
None other than the Philippines' premier danseur Nonoy Froilan, who breathes new life into this timeless classic, headlines this iconic ballet. A mix of new and familiar faces join him as Ballet Philippines' seasoned ballerinas Katherine Trofeo and Carissa Adea, together with Denise Parungao play Giselle, and Jean Marc Cordero, Richardson Yadao, and Earl John Arisola alternate as Albrecht.
All new to their roles, the six brilliant lead performers bring their own unique styles and personalities to their roles, while also taking cues from some of the world-famous ballerinas who have preceded them, such as Natalia Makarova, Yoko Morishita, Anna Villadolid, and Maniya Barredo for Giselle; and Nonoy Froilan, Patrick Bissell, Olivier Muñoz, and Brando Miranda, who have played Abrecht.
The role of Giselle is said to be one of the most difficult and exciting roles for a ballerina, as it requires extraordinary grace, technique, and above all, dramatic ability.
A two-act ballet performance on loss, forgiveness, and love beyond death, Giselle's story is a familiar one. Capturing the hearts of two men, Giselle chooses to return the affections of the one who turns out to be already taken—suave newcomer Albrecht.
Hilarion, the typical boy-next-door, continues to pine for Giselle, and warns her against falling in love with Albrecht. But Giselle chooses not to see this, and despite her own suspicions, she disregards Hilarion's advice. Soon enough, Albrecht's engagement is revealed, and Giselle's all-too-fragile heart is unable to take it.
ADVERTISEMENT - CONTINUE READING BELOW
Giselle thus dies of a broken heart and joins the ranks of the Wilis, the spirits of women who have been jilted and passed away before their wedding day. Their cold and hardhearted queen, Myrtha, orders that all the men who wander into their midst be forced to dance to their death, but Giselle's forgiveness ultimately saves Albrecht's life.
Ballet Philippines' last Giselle production was staged in 1999, featuring Toni Lopez Gonzalez as Giselle, alternating with Lisa Macuja-Elizalde and Cecile Sicangco, together with Jose Manuel Carreño and Osias Barroso, who portrayed Albrecht opposite these talented dancers.
Breaking the common misconception of ballets to be old-fashioned and dragging, Giselle proves to be an entertaining, moving performance, full of emotion and drama. With a compelling plot, pitch-perfect choreography and music, and a dedicated, passionate cast of performers, Ballet Philippines' rendition of Giselle will surely be remembered by how it poignantly stirs the hearts of Filipino audiences, yet again.
For inquiries, visit www.ballet.ph, send an email to info@ballet.ph, or call Ballet Philippines at Tel. No. 551-1003. For tickets and reservations, call the CCP Box Office at Tel. No. 832-3704 or Ticketworld at Tel. No. 891-9999. Like the official Facebook page (www.facebook.com/balletphilippines) and follow on Twitter @balletph.