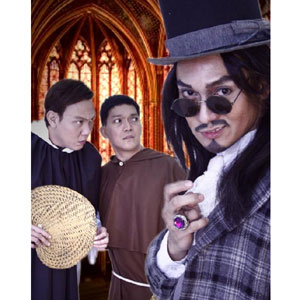 ---

The final installment ofGantimpala Theater's Four Classics, El Filibusterismo, will bring tolife the dark novel of national hero Dr. Jose Rizal under the direction ofJomar Fleras.

El Filibusterismo narrates the return of the protagonistof Noli Me Tangere, Crisostomo Ibarra, under the guise of the wealthyjeweler named Don Simoun (Roeder Camañag).

Disillusioned by the abuses ofthe friars and government leaders, Ibarra abandons his beliefs in order toreturn to his hometown of San Diego and start a bloody revolution.


Now all grown up, Basilio(Alfred Urieta/Christian Parado) is recruited by the scheming Simoun to aid himin detonating a bomb at a social gathering to signal the beginning of therevolt. However, Basilio warns his friend Isagani (Bluemark Rocess) ofthe plot. Realizing that the woman he loves, Paulita Gomez (Lailanie AnnTejuco), is in the venue of the bombing, Isagani throws the bomb into theriver, averting the explosion and the revolution.


Simoun commits suicide by taking poison and finds a resting place in thehome of a priest, Father Florentino (Bodjie Pascua), who hears his lastconfession and assures him that not all hope is lost. The priest, upon Simoun'sdeath commends the jewels into the sea. The jewels, once used tobribe and corrupt people, would one day resurface to be used for a meaningfulpurpose, prophesies Father Florentino.

ADVERTISEMENT - CONTINUE READING BELOW

Other stellar cast members arePerry Dizon (Don Custodio/Tata Selo); Jorge Cabullo (Don Tiago/Ben Zayb); PerryEscaño (Kabesang Tales); Kimberly Diaz (Juli); Lani Tapia (DonaVictorina/Madre); Yutaka Yamakawa (Juanito Pelaez/Padre Irene); Bluemark Rocess (Isagani)and Lailanie Anne Tejuco (Paulita Gomez); Jeffrey Camañag (PadreCamorra); Ronald Concepcion (Padre Fernandez); and Billy Parjan (PadreSalvi).


Soxie Topacio directs ElFilibusterismo. Perry Dizon serves as assistant director and Roobak Valle, as productiondesigner. Andy Villareal is the play's lighting designer. Andrew Alcona isstage manager and Pamela Hundana is the production manager. Gantimpala Theaterartistic director is Tony S. Espejo.
Performances are scheduled forNovember 4 (7 p.m., Concert at the Park Open Air Auditorium, Rizal Park,Manila); November 9-11, 23 -24 (10 a.m. and 2 p.m., AFP Theater, Quezon City); andNovember 16-17 (SM Southmall Cinema 6, Las Piñas City).


Call Gantimpala Theater at899-5745 or 896-3503 for tickets or you may write to gantimpalaproduction@yahoo.com.ph