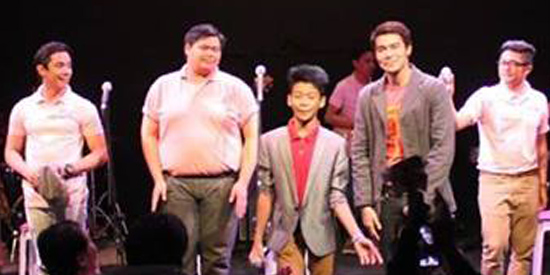 ---

If you loved the coming-of-age indie film Ang Pagdadalaga ni Maximo Oliveros, then you're in for a treat as the theater version of the beloved movie hits the Philippine stage this November 2013.

Titled Maxie the Musicale: Ang Pagdadalaga ni Maximo Oliveros, the theater version will begin its run November 9 and end December 8, 2013 at the PETA Theater Center in New Manila, Quezon City.

The 2005 Cinemalaya entry starred Nathan Lopez as Maxie, a 12-year-old effeminate gay boy who is torn between his love for a policeman and love for his family members who are petty criminals. Maximo Oliveros was selected as the Philippine entry to the Best Foreign Language Film category of the 2007 Oscars but it was not shortlisted.

During the teaser night, teen actor Jayvhot Galang brought life to the effeminate gay Maxie while Jojo Riguerra portrayed Victor, the police officer who is the object of Maxie's affection.


Select media outfits (including PEP.ph) were given a treat when a preview was held last August 23 at the Cultural Center of the Philippines.

Dubbed Patikim ng Shlight, this night was an absolute tease to what is shaping up to be one of the musicals to watch for during 2013's last quarter.

Maxie the Musicale is produced by Bit by Bit Company in cooperation with The PETA Theater Center and Cultural Center of the Philippines.

The theater version of Ang Pagdadalaga ni Maximo Oliveros will feature all-OPM songs. Based on the song numbers previewed during the teaser night, some songs were playful, some rousing, some poignant, but all in line with the spirit and character of the original movie.

Palanca Hall of Famer Nicolas "Nick" Pichay wrote the book and lyrics for Maxie the Musicale. He was helped by three relatively younger composers William Elvin Manzano, JJ Pimpinio, and Janine Santos. Dexter Santos serves as the director and choreographer of this production.

Patikim ng Shlight offered several acting scenes as well, performed by the ensemble cast who were joined in the very last scene and song number by
the actors playing Maxie (Jayvhot Galang) and Victor (Jojo Riguerra).

Some of the notable scenes included Maxie singing the very poignant "Mahal Kita" solo for Victor; the awakening of Victor to the real feelings of Maxie for him during a karinderya scene; the confrontation scene of Victor and Maxie where Victor calls Maxie out on the illegal nature of his father's business and recommends an honest living instead; the playful "laglag panty" scene of Maxie; and the very powerful finale song featuring Maxie and Victor.

How different will the musical be from the well-loved movie?

Dexter Santos comments, "People really loved the movie, so I think it's very important to stress, we are here to celebrate how revolutionary it was in its time. We're now using the power of the theater...sabi namin, if it was brilliant in the film, why change it."

He also adds that though Patikim ng Shlight featured quite a range of numbers, the rock musical is still "a work in progress, maraming musical numbers, we found songs, themes, we found emotions na bagay sa songs, siyempre the prologue to establish the context of Maxie, the jueteng and other illegal stuff that Maxie's brothers and father engaged in and more.

"It is fun and exciting, if you were a fan of the film, you will love this."

Nick Pichay adds: "When you see the musicale, it's like the movie, but it's not the movie.

"It's a totally different thing! This is our eight or ninth revision, and I am gunning for the tenth, and then I'll say, tama na, tapos na."

People who have already watched the movie can also expect something new since the producers added new elements to the theater version.

Nick Pichay points out, "there's going to be a beauty pageant like in the movie, it's also going to feature something else that is not in the movie."

Is there a reason for coming out with Maxie the Musicale eight years after it was released on the big screen?

Darwin Mariano, the musical's executive producer explained that the journey began long ago, with them mortgaging their house to finance a play before Maxie. In a random chat with Maximo Oliveros's original conceptualizer, Darwin was proposing to make a musical out of another film, but Jade Castro remarked, "ang mas maganda yung Maximo, kasi when we were making it, the idea of making it into a musicale already crossed our minds. That happened two years ago.

"Walang any particular timing, I think all of these things, yun sa society, coincidental, pero dito, we wanted to take our time. We wanted to do a good job, we are primarily theater fans, so we wanted to stage an amazing run."

Dexter Santos also answers how they found their Maxie and Victor, why they literally took their sweet time choosing the lead stars. "Casting Maxie is crucial. We started January, but even with 170 auditionees, we couldn't find the perfect Maxie.

"Until sa Facebook, someone tagged me, na 'this can be Maxie,' and yun nga si Jayvhot from Wowowee ata. Nag-audition, first note pa lang, alam ko na, we found our Maxie.

"We just got our Victor, fourth or fifth auditions, last month lang. We found Jojo last month lang.

"Sobrang importante na pasok na pasok sila, on stage.

"Sobrang thankful kami."

What else can theatergoers expect from Maxie the Musicale?

Dexter Santos promises: "It is gonna be a fun, fun, entertaining musicale, a lot of numbers, big numbers, I think around 26 numbers. Ang sabi namin, I think it is important that it remain faithful to the film."

Playwright Nick Pichay can't help but add that he is considering making it 28 or even 30 numbers. This elicited a huge laugh and applause from the audience.

Since all the numbers feature OPM, audience members wondered if the numbers would ever be featured on a soundtrack. This will depend on the show's producers, according to Toots Tolentino, publicist of Maxie the Musicale.

How did the three composers translate the words of Nick Pichay into song while maintaining the integrity of the original material?

Nick Pichay answers, "from the very beginning, we knew where Maxie was: in Sampaloc. I myself grew up in a place called Quiapo. Not quite different from Sampaloc."

He continues, "Our community began to decay, like Sampaloc, so from the get-go, we said, we have to capture that. If we don't capture that in our singing, in our choreography, we won't get Maxie at all."

During the Patikim ng Shlight, this attention to sound detail, endemic to Sampaloc as it were, was evident in the choice of notes used, the slightly seedy feel of the song numbers, held together by that signature sing-along sound of songs "from Sampaloc."

"This one is Sampaloc, this one is the sound of Maxie, of the father, of the other brother, and the other brother pa...different musical styles. So we have that Manila sound, the ganyan sound, it's not like hinugot lang namin and then okay na yan," shares Nick Pechay.

Moving from gruff sounds reminiscent of people drinking beer sa kanto, to happy slightly joyful sounds coming from Maxie and the macho, I-am-in-charge sounds of Victor, the teaser showed the wide range of musical styles Maxie the Musicale will feature.

JJ Pimpinio adds, "When we decided that it's Sampaloc, we then went to: ano ba ang pinapakinggan ng tao sa Sampaloc, I think from there sobrang, we got it. Kung hindi, pahirap, e. Kasi kung hindi, it can sound too grungy. Sabi namin, ano ba pinapakinggan ng isang Maxie? Siguro Regine [Velasquez songs], mga ballads. Ano ba papakinggan ni Kuya? siguro Eraserheads. yung younger brother, siguro Bamboo yan."

"Umabot nga kami sa tunog na Pepe Smith! Major collaboration eto," states Dexter Santos. "So some of the songs here might be longer, might be edited, might not be included."

Janine Santos said they had to focus on the structure as well, that despite their different styles as composers, as she is coming from a classical background, "Our influences are primarily OPM, yan talaga. We used motifs or themes na ganitong character, eto dapat tunog niya, and then we matched it up, especially
during big chorus numbers, na each sound will still be there."

In all actuality, during the chorus numbers previewed during Patikim ng Shlight, the distinct sounds of each character were indeed seen and heard but because the arrangement of the songs was also given attention, the blending and harmony came out seamlessly.

Maxie the Musicale will be staged from November 9 to December 8, 2013 at the PETA Theater Center in New Manila, Quezon City.

Tickets are already available through Ticketworld (Tel. No. 891-9999 or purchase tickets online) and SM Ticket booths.



ADVERTISEMENT - CONTINUE READING BELOW