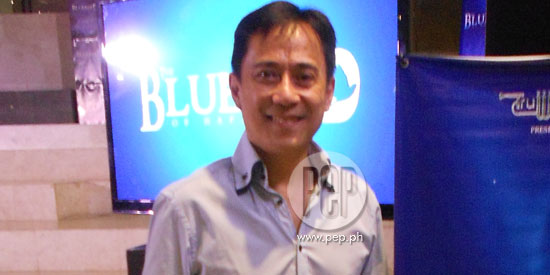 ---
Trumpets' comeback stage play aims to revive the tradition of staging theater shows, where the real stars are not celebrities but the stage actors. This is what the musical company president said in a recent press conference.
Trumpets, known for being the first gospel theater-play company in the country and all over Asia, is the theater group that introduced the production of musicals with celebrities in the lead.
"Ang trumpets ang pasimuno ng paglagay ng artista sa play [locally], kami ang nag-start no'n," explained Trumpets president Audie Gemora, who is also a stage actor and TV personality.
"Noon, yung ibang theater companies, happy na sa quiet audience, maliit lang kasi ang audience ng theater," he recalled.
"Ang Trumpets ang nag-pioneer na mag-market sa telebisyon, sa press.
"We were the first one to do presscons, we were the first one to do TVC commercials, radio commercials, perform in malls. Kami ang nag-innovate no'n at naglagay ng artista."
Among the musicals produced by Trumpets that featured celebrities were Joseph The Dreamer (Gary Valenciano) and The Little Mermaid (Carol Banawa, Dianne dela Fuente, KC Concepcion, and Karylle).
The move was a success because the names of celebrities helped in drawing crowds to watch the plays. Without doubt, this was beneficial for the local music industry.
Other theater companies followed suit, and more musicals featured celebrities in lead roles.
MORE THAN THE STARS. Although the trend was a positive development, Audie Gemora mentioned in the interview that there was a major setback—showbiz stars became the main attraction for theater goers.
"In time, ang nagiging basehan na, 'Sino ang artista d'yan?' So, naisip ko, patay tayo d'yan, kasi theater is not about who's sikat. It's about the material.
"At the end of the day, idya-judge ka ng audience mo kung maganda yung show o hindi , hindi kung sino ang artista."
ADVERTISEMENT - CONTINUE READING BELOW
Though celebrities can boost crowds, Audie wants the audience to understand that a play is more than the "stellar" cast.
"Kapag hindi maganda ang show, kahit sino'ng ilagay mo diyan, hindi mo maloloko ang audience, di ka babalikan," he explained.
COMEBACK PLAY. After three years, Trumpets is making a comeback with the stage play The Bluebird of Happiness, which runs from September 27 to October 20, 2013 at the Meralco Theater.
This marks Trumpets' return to the original concept of musicals, where stage actors, not celebrities, take center stage.
"I just felt that this material is so strong that it didn't need an artista," Audie said about the play. "So it was a deliberate decision not to put [showbiz] artists."
Since it was Trumpets that introduced stage plays with celebrities in the lead, Audie said it's fitting that the company initiate an end to the cycle.
"That's not what theater is about. Let's make an exercise, kami nagsimula, kami din ang tatapos ng cycle na ito."
Audie hopes that people patronize The Bluebird of Happiness for its life-inspiring message and the fact that theater productions are thriving.
"Ngayon mainit na mainit ang teatro. There are a lot of theater productions going on, so I think the theater shows can sell on their own merit. Kailangan lang mapanood."