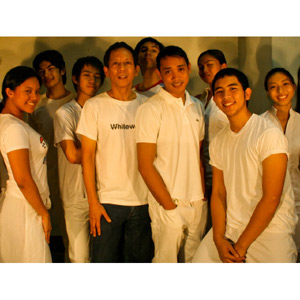 ---

TanghalangAteneo goes contemporary Filipino in The Death of Memory, the secondproduction of the company's 29th season. Written by Glenn Mas, The Death ofMemory is a Palanca prize-winning play, which also received a citation from theCatholic University of America. Tanghalang Ateneo's staging would be the play'sPhilippine premiere production.
In theplay, four people are trapped in a nowhere land where time has stopped. They have no memory of how they got there and no idea on how to get out. Each onecarries a painful and violent memory—sexual abuse, abandonment,murder—that assaults them at unpredictable moments and ties them to thispurgatorial prison.
AKeeper holds them in this limbo. At one point, the newly arrived man, Juan,incites his fellow prisoners to defy the Keeper and escape from memory. Willthey be able to free themselves? But how? This intense and imaginative playexamines the strength of the human will to live and choose, to fight againstparalyzing pasts, and to move on.
RalphQuiblat and Brian Sy alternate as the newcomer, Juan, while Rachel Quong andMargarita Paje play the Keeper, the ethereal guardian of the nowhere land. Therest of the faculty cast are Randy Solis, Dianne Laserna, Miguel Lizada, andAngela Serrano. The student cast is composed of BJCrisostomo, Regina Francisco, Nicolo Magno, and Gianna Villavicencio.
DirectorRicardo Abad and production designer Salvador Bernal depart from their Asianmotifs to create an abstract world that is replete with surreal and violentimages. Joining them are choreographer Matthew Santamaria, lightingdesigner Jonjon Villareal, and sounds and graphic designer ReamurDavid. Katski Flores, who directed the Cinemalaya 2007 finalist StillLife, incorporates film images of the character's memories.
ADVERTISEMENT - CONTINUE READING BELOW
TheDeath of Memory runsfrom November 29 to December 1, 4-8, and 11-15 at 7 p.m., with additional 2p.m. shows on December 1, 8 and 15at the Rizal Mini-Theater of theAteneo de Manila University.
For inquiries, contact Shiela Concina at09155715665 or the Rizal Mini- Theater at 426-6001 local 5121.Becauseof the adult theme and the graphic images, the play is for matureaudiences only.