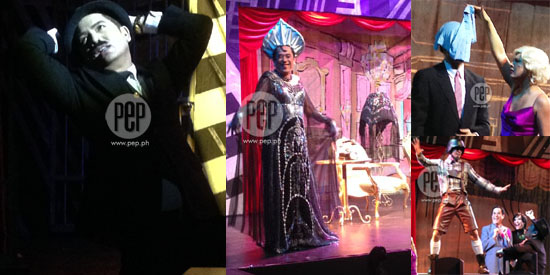 ---
If you need a break from all the not-so-good-news on TV or the stress and strains of work, go watch The Producers.
It is modest in terms of production value, but marvelous as far as talent inflow.
Forget about the grand sets, the 23-piece orchestra of the original Broadway staging, and the full of frills costumes.
The heft of this Mel Brooks musical is in the performances —with each actor having a moment of pure comic genius.
Very crucial, of course, is the role of Max Bialystock, now world-famous because of the Broadway icon Nathan Lane.
Repertory Philippines rightly picked Carlo Orosa for the role. On cue, the 49-year-old actor impressively transformed himself into a dubious and dirty-old-man Broadway producer!
Carlo said about his role, "… [it] takes out all the energy in me. It's like dying every night!"
Apart from the dancing and shagging his "investors," who are rich and bored geriatric women, Carlo's three solo singing numbers—"King of Broadway, "Along Came Bialy," and "Betrayed—" all demanded conviction and spirited performance.
I had my reservation that Carlo might be a tad too young for the role, momentarily forgetting his many years of theater experience.
But the sight of his toothbrush moustache onstage totally erased my initial doubt!
Carlo was cocky, sleazy, and flamboyant—Max Bialystock in the flesh.
He owned the stage, and he was King.
Together with the naïve Leo Bloom, effectively essayed by Topper Fabregas, Max hatches a two-million-dollar scheme, which involves roping in unsuspecting old ladies to invest in a "big, great Broadway flop."
ADVERTISEMENT - CONTINUE READING BELOW
No Broadway producer would choose the "worst play ever written" and the "worst director in New York," no one but Max and Leo.
Topper showed his versatility in his performance of Leo.
He was uncertain, lost like a child, in "We Can Do It," where Leo first uses his "blue blanket." But in the Repertory production, it looked more like binasang panyolito.
He was enthusiastic and resolute in "I Wanna Be A Producer," where he confronts his CPA—or, in Leo's own words, "certified public ass"—boss.
He was shy and very awkward, in "That Face," which he sang with Ulla.
Ulla wants Leo to leave New York and take the two million dollars to Rio de Janeiro.
Torn between surrendering himself and romancing his ladylove, Leo gasps, "Oh my god, I have a dilemma—go to jail or Rio?"
Topper's dancing in those scenes was a step up!
G Töngi plays the Swedish Ulla (full name: Ulla Inga Hanson Benson Yanson Tallen Hallen Svadon Swanson), the secretary/ receptionist hired by Max and Leo who both fall for her wily charm, a development that puts the friendship of the two partners on the line.
How did G Töngi fare in her musical stage debut with Repertory Philippines?
In my book, she added more verve to the role and was definitely a better dancer than Uma Thurman—who starred in the 2005 film version.
I also liked her accent and her very lively rendition of "When You Got It, Flaunt It."
ADVERTISEMENT - CONTINUE READING BELOW
Meanwhile, Joel Trinidad—who acts out Frantz Liebkind, playwright of the "worst script" Springtime for Hitler—was totally hilarious.
Watch him steal the thunder in these two numbers, Adolf Hitler's favorite tune "Der Guten Tag Hop Clop" and audition piece "Haben Sie Gehört Das Deutsche Band"—especially in the second song, which he rendered on top of a table following the instruction of Jaime del Mundo, the show's director.
In terms of size, he may not be as overpowering as Will Ferrell in the movie version, but Joel Trinidad gave out an equally eccentric, if not more frenetic, performance of the role.
Audie Gemora shone bright like a diamond, literally and figuratively, as he brilliantly convinced the audience that he was the "worst director in New York" Roger De Bris.
Clad in a glittering gown with matching head dress, he sang "Keep It Gay," which kept everyone in the audience gay and in stitches.
What a show-stopper, most certainly, was he!
If Carlo was King, Audie was the Queen.
But the "Darling of Crowd" was Roger's common-law assistant Carmen Ghia, played by Noel Rayos.
Whenever he talked and walked, the whole of Onstage would roar with laughter.
What a side-splitting laugh trip from start to finish!
Watching six people—all doing a very good job, singing, dancing, and delivering the punchlines—was enough to make me forget work and the worries of the day.
Model/host Joey Mead was spot-on when, during the brief program, she described the show as "a relief from reality."
ADVERTISEMENT - CONTINUE READING BELOW
The Producers wanted a "catastrophe," but gave their audience two hours of riotous, if a bit hysterical, fun.