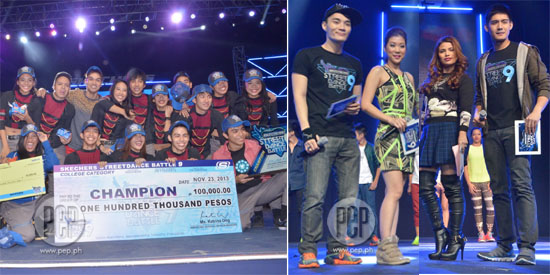 ---
There were a lot stunts, jumps, b-boying, tutting, roboting, popping, and locking that left the huge crowd in SM MOA Arena gasping and gaping in awe.
But in the end, it was the comeback performance of four-time champion UP Streetdance Club that stood out, reclaiming their fifth win at the Skechers Streetdance Battle 9, held on November 23.
With nearly 100 schools joining the six elimination rounds, 26 finalists—10 from high school and 16 from college levels—and a jam-packed venue, what was initially launched as an inter-school contest is now the "ultimate dance battle," which has become part of most school's annual tradition.
The brand's Marketing Services Division Manager Katrina Ong told PEP.ph (Philippine Entertainment Portal) that each year since they launched the project in 2004, the outcome has always exceeded expectations.
She related, "We started with a smaller event at the World Trade Center.
"Then after one year, we could no longer fit all the participants and all their friends and families and the community in that venue so we moved to Araneta Coliseum for the final battle.
"Every year na lang, there are so many…more and more participants signified their interest to join…
"…we have this community already, and it keeps on growing."
WINNERS AND PRIZES. The prize at stake is 100,000 pesos for the winning groups.
Add to that, the high school champ will also get a year supply of Greenwich pizza, while the top placer in college category also brings home a Nokia Asha for each member.
Presenting this year's winners:
ADVERTISEMENT - CONTINUE READING BELOW
College
1st Place: UP Streetdance Club of University of the Philippines (Diliman)
2nd Place: La Salle Dance Company ofDe La Salle University (Taft)
3rd Place: Company of Ateneo Dancers of Ateneo de Manila University
High School
1st Place: Terpsichore of St. Paul College (Pasig)
2nd Place: CSA Dance Troupe of Colegio de San Agustin
3rd Place: Sayawatha Dance Troupe of Miriam College High School
Freestyle Showdown
College: Dancers of UP Streetdance Club beating La Salle Dance Company
High School: Dancers of IndAK (Ateneo de Manila High School) beating Airforce (La Salle Greenhills)
Streetstylers, awarded to the most fashionable dancers, were won by the representatives of Miriam College (female) and De La Salle University (male).
For the telecast schedules on ETC, see below:
December 8, from 9:00 p.m. to 10:30 p.m (high school) and December 9, from 10:00 a.m. to 11:30 a.m. (replay of high school); December 15, from 9:00 p.m. to 10:30 p.m. (college) and December 16, from 10:00 a.m. to 11:30 a.m. (replay of college)