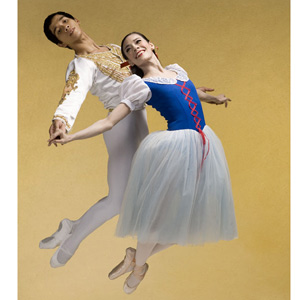 ---

Kids and adults alike will truly have an unforgettableChristmas season as Ballet Philippines bring to the Main Theater of theCultural Center of the Philippines, one of the most favorite fairy tales of alltime, Snow White,starting on December 5.
Made into a wonderful ballet production by Ms. Effie Nañas,relive the enchanting story of a beautiful princess whose skin is white as snow and lips as red as the petal of a rose. She is tormented by theevil deeds of her wicked stepmother, the Queen, prompting Snow White to live in the wilderness with seven oddballcharacters: Happy, Sleepy, Sneezy, Bashful, Grumpy, Doc, and Dopey—dwarves with heartsof gold who whistle while they work.
The magic of her life unfolds enchantingly on stage as SnowWhite's kindness and compassion is rewarded with her heart's wish—the coming ofher prince. And by the power of true love's first kiss, the spell is broken andPrince Charming and Snow White live happily ever after.
Performing the immortal fairy tale are Rhea Dumdum, CandiceAdea, and Carissa Adea (Snow White); Angel Gabriel, Ramcy Cortista, and BiagGaongen (Prince Charming) and Patrick Rebuilida (the wicked Queen). The sevendwarves will be played by members of the Ballet Philippines company.

Giving life to this well-loved classic are Ramon Victoria (restager); RoelBaronio (technical director); Aries Alcayaga (lighting designer); Oskar Profos(photographer); Sandy Hontiveros (executive director) and Ballet Philippinesartistic director Bam Damian.
Performances of Snow White are slated on December 5-15, (10am/2 pm/7 pm) at the Tanghalang Nicanor Abelardo (Main Theater), CulturalCenter of the Philippines.
Tickets are available at the CCP Box-Office, Ticket Worldoutlets and through Ballet Philippines (Tel. Nos. 551-0221; 551-1003; 832-6011) oremail: balletphilippines@pldtdsl.net