The idea was born out of a casual conversation between PETA's artistic director Maribel Legarda and musical director Myke Salomon. After Atlantis brought Rock of Ages to the local theater scene, Mike joked, "Meron silang Rock of Ages dapat meron tayong Rak of Aegis!" Direk Maribel took the idea and ran with it.
Two years later, Rak of Aegis is here.
Last January 10, 2014, Philippine Educational Theater Association (PETA) held a press preview for Rak of Aegis at The PETA Theater Center. A 20-minute excerpt was shown followed by a Q and A.
The play is set in Barangay Venizia, a small town in Laguna that has been submerged in flood. The town's sandal and shoe-making industry is dying. People are struggling to get by. Against this backdrop of calamity, a young promodizer, Aileen (played alternately by Aicelle Santos and Joan Bugcat) dreams of becoming a YouTube sensation and being discovered by Ellen Degeneres.
Aileen's suitor, Kenny (Poppert Bernadas and Myke Salomon), tries to help Aileen, but he has issues of his own to deal with.

Aileen's other suitor, Tolits (Pepe Herrera and Jerald Napoles), is more devoted to her, but he is too shy to admit his feelings.
Meanwhile, Aileen's father, Kiel (Robert Seña), is in danger of losing his job. He tries to convince Kenny's mother, baranggay captain Mary Jane (Isay Alvarez-Seña and Kalila Aguilos) not to close down her shoe business which is struggling due to the flood. Mary Jane and Kiel have their own unresolved conflict. They loved each other once, but they had to go their separate ways, so Kiel ended up with Mercy (Cacai Bautista and Neomi Gonzales).
Aileen loses her job as a promodizer. She has no other way to help her family. Aileen decides to make a video of herself singing and capitalizes on the flood as her backdrop. Tolits posts the video online, unaware that it will put their small town on the map and change their lives forever.

Opening on January 31 at The PETA Theater Center, Rak of Aegis will run for 6 weeks, Fridays to Sundays until March 9, 2014.
For the excerpt, the set design was minimal—wooden stools and a bare stage. The actual set will be more elaborate. There will be a Y-shaped swimming pool made of fiberglass which has water inside. There will also be planks and a mini bridge, two houses which appear submerged in the flood, and a small boat ferrying the townspeople to and fro. The actors will be performing and even dancing in the water. PETA Theater's intimate "theater in the round" stage design will make the audience feel close to the action onstage.
There will be 20 Aegis songs in the musical including popular songs like "Luha," "Halik," "Sundot," "Christmas Bonus," and "Basang-basa sa Ulan." The songs were carefully chosen and rearranged to give them a new context. For instance, "Basang-basa sa Ulan" is a song about love lost.

During the excerpt, as the townspeople sang "Basang-basa sa Ulan," the song captured the town's dire situation caused by the flood. The challenge will be for the songs to fit each scene so that there is no disconnect between the narrative and the music.
The story was inspired by playwright Liza Magtoto's experience during PETA's post-Ondoy relief efforts. Incidentally, Rak of Aegis was conceived before typhoon Yolanda struck. The play eerily reflects the grave reality faced by Filipinos in Tacloban and other typhoon-ravaged areas in Visayas.
The story is timely and very Pinoy. Elements such as YouTube uploading, the idea of fame as a way out of poverty, and 13th month pay makes this musical relatable. The play deals with serious issues in a way that is light-hearted and even poignant.
The cast kept the audience captivated. You could feel the power behind the Aegis' songs as the ensemble performed them. Gio Gahol's fun and energetic choreography complemented the music. The cast members gave it their all and they danced with a lot of passion. You could feel the energy bursting from the stage.
Aicelle Santos gained popularity from joining reality singing competitions like Star in a Million and Pinoy Pop Superstar. In Rak of Aegis, she showed her vocal chops as she belted out the songs with a lot of heart and soul. She is a commendable actress as well. She captured Aileen's feisty nature and drive.
Robert Seña and Isay Alvarez-Seña are best known for their roles in the original production of Miss Saigon. During the excerpt, they reached the song's high notes with ease. Casting real-life married couple Robert and Isay is also a good move. The couple showed great chemistry on stage as they portrayed characters that have a lot of history between them.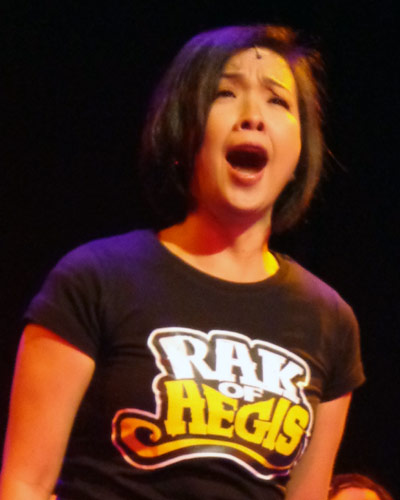 Isay Alvarez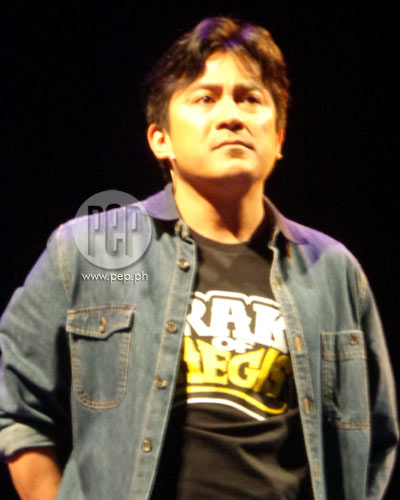 Robert Seña


There have been a number of musicals that feature pop or rock music from bands instead of Broadway songs. Musicals like Mamma Mia!, American Idiot the Musical, and We Will Rock You as well as local musicals like Tanghalang Pilipino's Ejay and PETA's Sa Wakas come to mind.

How will Rak of Aegis stack up against these musicals? If the response of the audience during the excerpt is any indication, then Rak of Aegis is bound to be as unforgettable as the LSS-inducing Aegis songs.
Rak of Aegis will be staged from January 31 to March 9, 2014 at The PETA Theater Center.

Address: No.5 Eymard Drive, New Manila, Quezon City

Tickets are available via www.ticketworld.com.ph or call Tel. No. 891-9999.