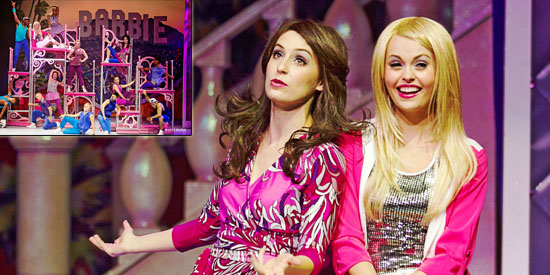 ---
Be brave, be good, and cherish your true friends.
This is the message that echoes until after you have watched Barbie Live The Musical, which premiered in Manila yesterday, December 11.
Set in a Hollywood sound stage, the story centers on Barbie and her best friend Teresa. They are both filming a new movie together.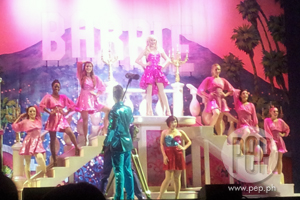 Conflict arises as Teresa begins to doubt her talent as an actress. To make matters worse, their co-star Raquel is bent on stealing Teresa's role in the movie.
An eternal optimist, Barbie helps Teresa overcome her personal struggles by sharing valuable lessons she learned from movies such as Swan Lake, Princess and the Popstar, and Mariposa and Fairy Princess.
At a time when Teresa is on the brink of quitting her job, Barbie proves that she is a true friend with her constant guidance and boost of confidence for the former.
SIMPLE BUT MEANINGFUL PLOT. You'd think that the stage adaptation of the adventures of Barbie, Matell's popular fashion idol, is something that only kids will enjoy.
But it's actually something that toddlers, teeners, and even adults can easily relate to as it tackles problems about peer pressure, difficulty in facing your fears, and doing what you love.
Even kids watching the show managed to see through Raquel's scheme to outshine Teresa, which goes to show that the musical succeeded in conveying the difference between good and bad.
One notable scene is the part where Raquel does a monologue about wanting to be the star of the show. To this, kids responded enthusiastically with a resounding "No!"
The segment featuring the tale of Barbie Mariposa and the Fairy Princess Catania is also unforgettable because it stresses the importance of maintaining good values especially during tough times.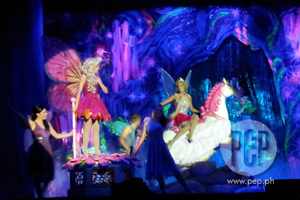 In the story, Princess Catania opts to save the bad fairy Gwyllion from the king's cruel punishment, stating that it is not right to destroy someone's life even if that person caused a lot of harm to others.
ADVERTISEMENT - CONTINUE READING BELOW
Conveying such message is good for character-building among impressionable kids and also a nice reminder to adults.
GOOD PRODUCTION VALUES. The repertoire of Barbie Live! The Musical is filled with inspiring and upbeat songs such as "Look How High We Can Fly," "Just Be A Friend," and "Get Your Sparkle On."
Some of the children in the audience, who are familiar with Barbie movies, even sang along with the performers at times.
While listening to the songs' lyrics, one is encouraged to do good and be a friend to others.
The stage design is filled with colorful backdrops that are perfect for the Hollywood and fairy kingdom setting.
Little kids will enjoy watching fairies with butterfly wings, including Princess Catania who's astride a unicorn as part of the props.
The performers also made good use of high risers for the rousing song-dance numbers.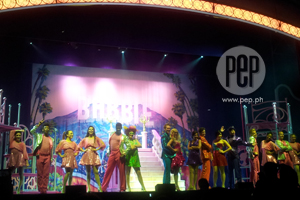 Good performances from the cast members as well as high production values make Barbie Live! The Musical a great treat for family members and friends this Christmas season.
It is currently being shown in SM Mall of Asia Arena until December 15, 2013. A meet and greet with the stars of the show is available for only P1,500. Proceeds of the show will be given to victims of super typhoon Yolanda.