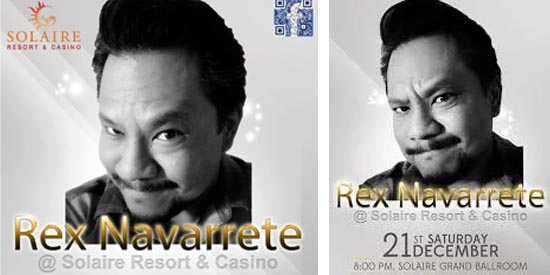 ---
When foreign acts spend just one night to perform in the Philippines, it is a big deal.
Fil-American Rex Navarrete is one of those semi-foreign acts who'll spend an exclusive night at the posh Solaire Resorts and Casino in Parañaque City this weekend right before Christmas.
The 2011 Aliw Awardee for Comedy became famous for his "Maritess and the Superfriends," "SBC Packers," and Sto. Niño comic sketches, among others. He is back in Manila for a one-night show today, December 21, 2013.
Can we expect his old characters to resurface for his latest show?
"I feel flattered I have 12- and 13-year-old fans," he says of the younger generations who probably weren't born yet when the "Maritess" material came out during the late '90s.
But Rex hints that the old comedy routines, which even came out in animation form during its heyday, could make it onstage for his pre-holiday shindig.
"I'm excited because people want to come and see this old guy they read about ten or eleven years ago," he remarks.
Rex continues to be inspired because, "For the crowd that received me back in 2002, they still wanna hear the classics, maybe I'll hint about it, but I am just so glad they are coming back to hear the new stuff and bringing their kids or newer audiences with them."
Any more information he can divulge as to what to expect for this night?
"Not to give everything away, because I hope you'll all come to the show.
"It's been a while since I've been back and I am so excited to return," he adds.
The last time Rex was here was 2005. Since then, he has comfortably settled down in Portland, Oregon, fathered two kids and, as he calls it, became a "yoyo." (his own monicker for the male version of the Pinay nanny).
ADVERTISEMENT - CONTINUE READING BELOW
Rex shares that what he will most likely be doing on December 21 is a lot of the new stuff he has been working on in the States, from living in America.
"I was just recently in London for the first time, a brand new audience. I didn't know there were that many Pinoys in the UK," Rex jokingly adds.


DOING HIS SHARE FOR CHARITY. In the aftermath of the killer typhoon and other calamities that the country has gone through this past year, Rex remains steadfast with his charitable intentions.
Rex narrates, "I wanted to make sure that we would do this show.
"What better way to celebrate Christmas and come to a place like this, laugh with your friends, bring your family and just keep the Christmas spirit going.
"With the recent disaster in the Visayas, we wanted to be sure we are doing a show that raises awareness as we are donating part of the proceeds to charities."
The location is also key, that's why Rex thought, 'why not do it at this brand-new casino?'
And of course, coming home is always a good excuse to do a show.
"When the disaster happened, I said, we are not gonna cancel, let's just keep doing this and make sure that, you know, people need an outlet and keep it positive... turning this into somewhat of a fund-raiser, a benefit."
"It's Christmas, let's still celebrate, and be appreciative of what we have," he beckons.

STAND-UP COMEDY AS WORK. Rex, whose first job out of college involved youth rehabilitation work, officially started doing full-time stand-up comedy in 2002. He admits that it didn't happen overnight, though.
He recalls, "When I first started doing stand-up 23 years ago, I knew that my comedy was gonna be centered about being Filipino."
"That witty, solo stand-up comedy... no singers, no wardrobe changes.
ADVERTISEMENT - CONTINUE READING BELOW
"It takes coming back, trip after trip, to make as many shows as I can to also mainstream this craft, this version of comedy.
"The Philippines has a rich tradition of stand-up, although it was never called that, it was called satire. Like a bunch of guys called APO Hiking [Society], getting together to write songs that make you think about the conditions of our lives."
"Being Filipino-American, being born here but growing up in the States, we wanted to to be sure that the material kinda bridges, you know has all the influences of how I grew up, with very Filipino values.
"The material has always been catered to the Filipino—how we think, how we move in this world," Rex explains, highlighting the key elements of what makes his stand-up comedy work across generations and backgrounds.
"I am a fan of comics, satire, that allows you to listen to your own voice.
"My comic inspirations remind me who I should be writing for—if it's Filipinos, or everyone who knows a Filipino. You don't have to be a Filipino to embrace my stuff."
He has created characters like Maritess and made them famous . Which new characters shall we expect from the 2013 version of Rex Navarrete?
"I might work on something. It's not over for Maritess. You never know she might be somewhere else working with some other superheroes.
"In terms of characters, a lot of people. Like everyday people in my life, like my relatives, people who I know personally or situations that I hear about.
"I try to keep it universal. Sometimes you can switch up the voice," Rex shares, referring to the speaker or point of view of whatever sketch he is working on.
He says it has also helped his comedy now that he is based primarily in the United States.
ADVERTISEMENT - CONTINUE READING BELOW
"The best thing, it depends on who you ask. I love living in the States. But I also love the fact that people make an incredible life here or elsewhere.
"The good thing about living in the States, that is where my work is, I want to stay I guess for the rest of my life.
"The Philippines is still a big place for me to establish stand-up, as long as I keep coming, keep bringing what I do, keep inspiring people to embrace the craft, the genre and inspire other home-grown Pinoy comics, I think I am doing a good job," he muses.
In his opinion, comedy is "an endless craft, you can keep creating new stuff, discover new things about yourself as a writer, performer."
A FILIPINO CHRISTMAS. Rex, who last spent Christmas in the Philippines in 2005, smiles as he shares, "No one does Christmas like the Philippines."
"I don't think anyone can stand in comparison to how serious the Philippines takes Christmas."
"It never ends," he grins widely, before concluding, "I am a traditional Pinoy, and in my house in Portland, I still have Christmas lights up, I never took them down!"
"Now I gotta go shop for a parol."