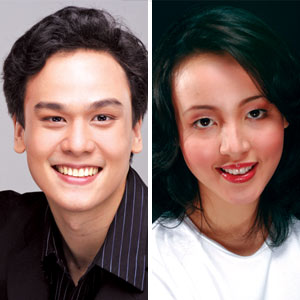 ---

Repertory Philippines celebrates its 40th year with arestaging of theater goers' beloved classic, Fiddler on the Roof. Firstperformed by Repertory Philippines (REP to its aficionados) in 1983, this theaterclassic focuses on the story of milkman Tevye and his Jewish village inpre-revolutionary Russia.


The story is oddly more relevant to thelower-class Pinoy than it is tothe upper-class bourgeois. The main character is Tevye, thehappy-but-poor-as-a-synagogue-mouse milkman who manages to keep a wry sense ofhumor about himself, his family, and his God. The plot revolves around thefamilial, social, and political changes that affect him and his family in thelittle kosher village of Anatevka circa 1905.

Try as he might, "Papa" Tevye and his Jewish fellowmen try to stick totradition, because "Without tradition, our lives would be as shaky as a fiddleron the roof." But in the course of marrying off three of his five traditionallybrought-up daughters, he begins to realize that maybe tradition will have toaccommodate change after all. In Tevye's words, "One little time, you pull outa pop, and when does it stop?" The audience then wonders, "Yes, when doeschange stop?" and "How does one battle with tradition?"
Despite its very European setting, theJewish elements in Fiddler on the Roofseem to be very Filipino: a father wishing "If I were a rich man," daughters dreaming "Matchmaker, matchmaker, find me a match,"men congregating and drinking alcohol in local pubs, chatty mothers doting ontheir children, matchmakers, a religious figure (in their case, a rabbi), andother traditions.
The audience will be brought back in time by popularsentimental songs such as "Sunrise-Sunset," "Tradition," and "Anatevka,"performed in combination with the cast members' clear, powerful voices, and chreographed dances. This Repertory Philippines production is meant toentertain—and entertain it does.
ADVERTISEMENT - CONTINUE READING BELOW
Despite technical problems (there weresome slight glitches with the lapel microphones), the production made up forit with a talented cast of musical- theater actors and mesmerizing musicby the Manila Symphony Orchestra (under the baton of Maestro Arturo Molina).
SYNOPSIS. Tevye, a dairyman, is searching for appropriate husbands forhis three eldest daughters—Tzeital, Hodel and Chava. In a break of tradition,his daughters refuse to accept the wishes of the matchmaker, Yente, and theirfather. Instead, they marry men that they love. Meanwhile, Russians areinstigating terrible pogroms against the Jewish people in Russia. In the faceof changing social mores and the growing anti-Semitism of Czarist Russia, theJews of Anatevka are forced to leave their homes and Tevye is determined tostart a better life in a new land.
The competent cast of Fiddler on theRoof is led by Miguel Faustmann, who alternates with newcomer Fr. TylerAllan Strand as Tevye. Seasoned thespians Pinky Marquez and Joy Virataalternate as Tevye's wife Golde, while director Baby Barredo does a cameo asYente the Matchmaker (with alternate Jay Glorioso).
The show takes about two hours and 45minutes, excluding intermission, and although entertaining, more than a fewdances can still make you stifle a yawn. Still, the show is something thefamily ought to watch together. When you emerge from the theater, you'll findyourself humming the tunes of the musical and probably bearing this thought inmind: if simple issues can stir up generations of tradition, how much more canissues like politics, religion, and social values stir up a country and itsregime?


ADVERTISEMENT - CONTINUE READING BELOW
Fiddleron the Roof, written by Joseph Stein with lyrics by SheldonHarnick and music by Jerry Bock, runs until December 16, 2007. This restagingis co-directed by Baby Barredo and Robbie Guevarra, and choreographed by JulieBorromeo.
For ticket information, prices,and show dates of Fiddler on the Roof, call 8870710 or visit http://www.repertory-philippines.com/
Tickets are also available atTicket World (Tel No. 891-9999).
Performances: November 7 until December 16, 2007
Venue: Onstage, Greenbelt 1, Makati City