Repertory Philippines proudly announces the start of its 2014 season with Wait Until Dark—a thriller written by Frederick Knott.

The play that the New York Post deemed "a first rate shocker," Wait Until Dark is a suspense about a blind housewife named Suzy who finds herself terrorized by three strange men. The men search for a doll that has been filled with heroin and little does Suzy know, her husband has mistakenly transported the doll across Amsterdam and into their London apartment. Suzy must rely on her instincts, with the help of a neighbor girl and the cover of darkness to outwit the dangerous strangers and protect her life.

Wait Until Dark premiered on Broadway in 1966 with Lee Remick portraying the role of Suzie, which earned her a Tony Award nomination for best
actress in a play. After 374 performances, a film version was released in 1967, which starred Audrey Hepburn, Alan Arkin and Richard Crenna.

Hepburn garnered Oscar and Golden Globe nominations for her portrayal in the film. The Bravo network ranked the film 10th on its list for 100 top scariest moments.

For this new Repertory Philippines production, stage actress Liesl Batucan shall play the lead role of Susy Henderson.

She was previously part of Rep's 2013 run of Alice in Wonderland.

At a rehearsal break, Liesl shared her insights about her role.

"In preparing for this role as a blind woman in the play, the first element I considered was the onset of my visual impairment. My character, Susy, was actually not born blind, but was injured in a car accident a year earlier. So I
actually have an existing "visual experience and visual grip" of the world. This spells a difference from someone with no visual context whatsoever—that is—someone who is born blind.

With the recent blindness, the challenge now is to navigate the world in a new way. I now need "reference points." For example, in my London apartment, I use certain things to guide me or serve as landmarks, like the walls, the furniture.

"Having been blind a year, I'd be relatively adjusted, especially in my living space, because I'd have memorized the placement of things via muscle memory, but I'd still be somewhat awkward and unsure outside the safe confines of my home, hence the need for my walking stick outdoors."

"The second detail I considered was how it would 'feel' to be blind… I mean, from the inside… The 'feel' of it, the 'inner reality' of it. That would inform how I would move. The internal informs the external and vice versa.

"Additionally, when one of your senses is taken away from you, the others become that much more sharp, enhanced and finely-tuned. So my senses of hearing, touch, taste and smell would be raised to a higher level than those of the average person.

"In the play, I 'sense and perceive' things more acutely, to the amazement of the con men. And I rely heavily on touch and hearing. Our director Miguel Faustmann keeps reminding me: Your ears become your eyes.

"Which brings me to the third thing I considered: The physicality of a blind person. On a personal note, I feel this should be executed truthfully and sensitively… and shouldn't be overplayed. That would be a big mistake just like trying to play a drunk person by swaying around purposefully to indicate being inebriated.

"I always remember what Tita Bibot Amador, my beloved mentor, advised one of the actor in a rehearsal: A truly drunk person copes with the drunkenness. And in fact, tries to hide it.

"Corollary, as a blind person, I would try my very best to cope. The handicap is a reality and a challenge, but does not define the blind person."

"The rehearsal process has been very riveting, eye-opening and has posed a very real physical challenge, with me sometimes stumbling over furniture, and getting very bruised in the process, but it has all been worth it.

"With all lines down pat and blocking locked in, rehearsals will be conducted with me being blindfolded. And outside of rehearsals, I've been doing my research, observing blind people, getting a sense of their world. And at home, I've been practicing moving around comfortably with the lights shut to simulate total darkness. In Wait Until Dark, the darkness becomes my defense."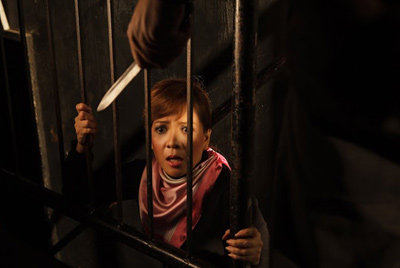 Co-presented by the City of Makati, Wait Until Dark runs until February 9, 2014.

All performances are at Onstage, Second floor, Greenbelt 1, Paseo de Roxas corner Legazpi St., Makati City.

For inquiries, call Tel. No. 571-6926 or 571-4941. Tickets are available through Ticketworld at 891-9999 or via Ticketworld.

(To purchase tickets online, CLICK HERE)