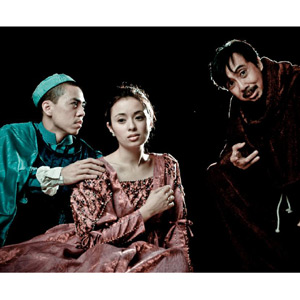 ---

Gantimpala Theater caps its pearl anniversary celebrationwith William Shakespeare's Romeo and Juliet, considered by many as thegreatest love story ever told. This tragic drama on forbidden love willbe staged starting December 7 at the AFP Theater in Quezon City.
One of Shakespeare's classics, Romeo and Julietrevolves around the feud and pride-hardened hatred between two ofVerona's most distinguished households—the Capulets and the Montagues—and theromance that blossomed between their beloved offspring.
This drama combines the contrasting elements of humor andsorrow, bawdiness and civil strife, innocent love, and ignorant hate to rouse anamazing depth of mixed tenderness and tension, plus the near perfect lovers whotake their own lives, and how this inevitable tragic end led to an ultimatereconciliation.
"Romeo and Juliet is the perfect play to roundup Gantimpala Theater's 30th season," says artistic director Tony S.Espejo.
"It has all the elements that our student audiences will surelyappreciate—there is drama, family feud, romance, a lot of kissing scenes andfencing sequences. I have a wonderful cast of very talented and gifted actorswho are giving their 100 percent to make sure that this production will turnout to be a truly unforgettable theater experience for anyone who will viewit."
Giving life to the strong-willed Montagues are LanceRaymundo (Romeo); Pamela Hundana (Lady Montague); Jeffrey Camañag (LordMontague); Roeder Camañag (Mercutio) and Rico del Rosario (Benvolio).
Monica Llamas (Juliet); Kimberly Diaz (Lady Capulet); CesAldaba (Lord Capulet) and Miguel Vasquez (Tybalt) play the illustriousCapulets.
Verona's finest denizens caught in the middle of the warringclans are Bodjie Pascua (Friar Lawrence); Michiko Unso (Nurse); Arkin Da Silva(Prince Escalus), Raymond Talavera (Balthasar); Kristian Chua (Petruchio); JohnPaulo Garcia (Peter); and Francis Ong (Paris).
ADVERTISEMENT - CONTINUE READING BELOW
Joey Nombres (lights designer); Roobak Valle (productiondesigner); Albert Figueras (costume designer); Angie Panogan (choreographer);Glenda Alday (stage manager) and Alice Borbe (production manager) are theartistic and production team behind Espejo's rendition of theShakespearean drama.
Performances are on December 7-9 (10 am/2 pm, AFP Theater inQuezon City), December 14-15 (SM Southmall Cinema 6 in Las Piñas City).
Shows will resume in 2008, starting on January 19-21 (alsoat the AFP Theater) and in February 13-14 (Teatrino in Greenhills, San Juan,Manila).
For tickets, call 899-5745/896-3503, 528-0603 or0921-5286308 or write to gantimpalaproduction@yahoo.com.ph