Nick Joaquin was conferred the National Artist of the Philippines for Literature in 1976—the same year he rewrote one his famous short stories, Three Generations, into a three-act play, and re-titled it Fathers and Sons.
The following year, Fathers and Sons was translated into Filipino by Jose "Pete" F. Lacaba and Virgilio Almario for the Philippine Educational Theater Association (PETA)'s staging of the play, renamed Mga Ama, Mga Anak, under the direction of revered filmmaker Lino Brocka.
Flash-forward to 2014: Tanghalang Pilipino, the resident theater company of the Cultural Center of the Philippines (CCP), restages the play's Filipino translation.


This time, the play dubbed Nick Joaquin's Mga Ama, Mga Anak is the closing production of Tanghalang Pilipino's 27th theater season.
Lacaba and Almario are credited as the translators, with Rody Vera as the editor of the script's third act. Joel Lamangan, who had a bit role in PETA's 1977 production, is now the director of the play's revival.
Over the years, Joaquin's work hasn't lost its substance and power. It talks about the effects of having an abusive parent and why the abused child shouldn't let his oppressed past dictate his present life. It also tackles unselfish love, forgiveness, and finding one's own direction.
The story revolves around Zacarias Monzon, a lowly kutchero (driver of a horse-driven carriage locally called kalesa or carretela) who rose to become the "Carretela King" (for running a fleet of kalesas). He also owned vast tracts of land and plantations.
Aside from his wealth and influence, he was also known for his obsession for alcohol and women. He and his wife had two children, a boy named Celo and a girl named Nena. He also fathered many other children with different women, and he housed them all in his big house with a grand dining table where they ate together. He was abusive to his wife, children, and mistresses. He used his horsewhip to gravely discipline them or to simply amuse himself.
The play takes place when Zacarias is already a wheelchair-bound octogenarian being cared for by his spinster daughter Nena and his young mistress Bessie. He reminiscences about his past glory and strength, but he is forced back to present reality by his son Celo, now a wealthy family man. Celo, with his wife Sofia and their only child Chitong, often visit Zacarias.
Unlike his father, Celo is educated and he likes to think of himself as morally upright. He resents having Bessie, whom Zacarias met as a nightclub dancer, and drives her out of the house. Zacarias is outraged, but can no longer fight his son—whom he used to strike, with his horsewhip, not on the usual back or buttocks but on the face, because the boy feared being hurt on that body part.
Lamangan's direction clearly defines the familial relationships, conflicts, and issues. He knows how to balance the heavy scenes with light moments, and how to keep the pace brisk and the storytelling engaging. He is also able bring out even more exceptional performances from his already superb cast.
As Zacarias, Robert Arevalo is both detestable and sympathetic. Yes, the old man is not remorseful for his abusive ways yet you pity him for growing old not even acknowledging his sins. (Spanky Manikan alternates for the role of Zacarias.)
Nanding Josef's Celo initially strikes theatergoers as someone likeable and respectable but the veteran actor succeeds in exposing his character's own abusive and repressed personality. (Josef is also the artistic director of Tanghalang Pilipino.)
Celeste Legaspi's portrayal of Sofia brims with brio and humor. (Jackie Lou Blanco alternates for the role of Sofia.)


Madeleine Nicolas makes the audience understand why Nena looks up to her father, despite his many flaws. (Banaue Miclat-Janssen alternates for the role of Nena.)
Cris Villonco is exquisite as Bessie. She dresses up and talks like a loud and sassy nightclub dancer but she also shines in moments that reveal her character's vulnerability and selflessness.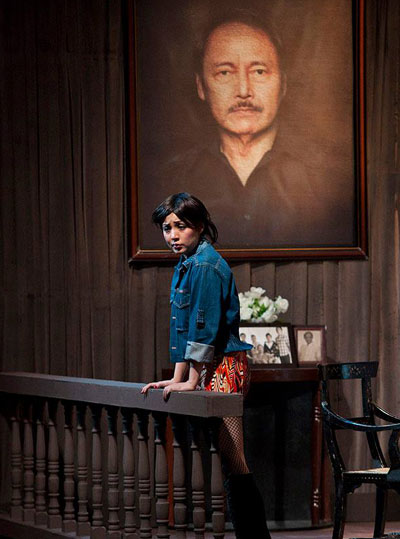 Cris Villonco


Marco Viaña, a resident actor of Tanghalang Pilipino, plays Chitong. He may be considered a greenhorn but he is able to hold his own in the company of much experienced actors.
Peewee O'hara is a scene-stealer as Mrs. Paulo, a retired nurse and a nosy neighbor. She provides comic relief as well as insights on how the community regards Zacarias.
Credit also goes to lighting designer Monino Duque, production designer Tuxqs Rutaquio, music and sound designer TJ Ramos, and technical director Arnelio Manzano for making the production a total theater experience.
Indeed, Tanghalang Pilipino couldn't have chosen a better season ender than Nick Joaquin's Mga Ama, Mga Anak. The play imparts valuable lessons, such the ones found in Chitong's thematic lines, which, in the original English text, go like this: "Character is not something we inherit. It is something we create. If we cannot blame fathers for what we are, neither should we blame ourselves for that new person. Oh, yes, there are fathers and grandfathers and who knows what ancestors crowding within us but all of them are just ghosts, impotent, powerless ghosts, unless we allow them to create us in their image."
Nick Joaquin's Mga Ama, Mga Anak will have gala performances on February 28, and March 1 and 8; as well as matinee shows on March 1, 2, 8, and 9, at the Tanghalang Aurelio Tolentino of the CCP in Pasay City.

For ticket inquiries, call CCP at Tel. No. 832-3704 and Tel. No. 832-1125, and Tanghalang Pilipino at Tel. No. 832-1125 loc. 1620 and 1621.

To purchase tickets online, visit Ticketworld.