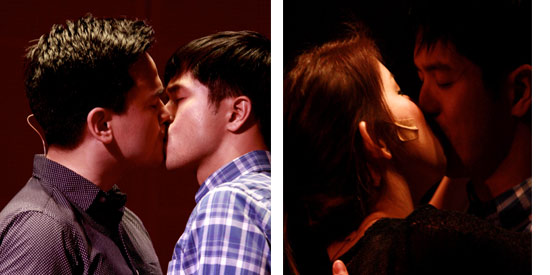 ---
Red Turnip Theater presents Cock, their second offering following the success of their debut production Closer. Cock, Mike Bartlett's biting comedy, has an intriguing title, and an even more intriguing premise.
Cock revolves around a gay couple, John (played by Topper Fabregas) and M (Niccolo Manahan), whose rocky relationship derails when John sleeps and falls in love with a woman, W (Jenny Jamora).


Now John is caught in an unusual love triangle and neither his boyfriend nor his girlfriend is willing to give him up without a fight. M's father, F (Audie Gemora), unexpectedly turns up, and they all "duke it out" over the most uncomfortable dinner ever.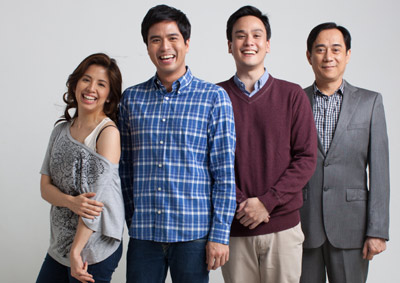 Jenny Jamora, Topper Fabregas, Niccolo Manahan, and Audie Gemora
The set is minimal. It resembles a cockfight ring. There is a circular red stage, on an even level with the audience, surrounded by a few wooden blocks. With no props, scenery or furniture, the audience is able to give their undivided attention to the dialogue. The words of Mike Bartlett's Olivier Award-winning play take centerstage.
The theater-in-the-round stage (wherein the viewers surround the stage area) mimics an arena and creates an intimate atmosphere. It feels as though the audience is listening in on a very private conversation. Some audience members get to sit three feet away from the actors, so the fourth wall is removed. It feels as though the actors are in the same plane as the audience. One of the challenges of theater-in-the-round staging is that there are times when the actors have their backs to the audience. During intense scenes, it can be frustrating when you can't see the actor's face. The actors have to constantly move around, so the audience can get a good view.
Rem Zamora makes his successful directorial debut with Cock. The set has no furniture or props, and the actors aren't even allowed to mime. Rem's blocking is very specific. The actors circle each other, as in a cockfight, and attack. At times, the characters team up against the others, so it is clear where their loyalties lie. They face off against each other in a ring. The end of each scene is signalled by the ding of a bell, as in a boxing match.


The blocking for the sex scene is particularly innovative. John and W keep their clothes on and barely touch each other as they emit suggestive sounds. This allows theatregoers to focus on the dialogue of the thespians engaging in "sex."
ADVERTISEMENT - CONTINUE READING BELOW
The characters were left unnamed so that the audience can identify with any of them. In spite of its unique premise, the play is still relatable especially since the actors play their roles to a tee.
Topper Fabregas, as John, epitomizes ambiguity and indecision. For 90-minutes, the audience watches him oscillate between his male lover M and female lover W. In the hands of a less talented actor, John could easily come off as a heartless jerk, but Topper shows his neuroticism and genuine confusion.
As M, Niccolo Manahan is the soul of the play. Niccolo delivers M's acerbic lines in a way that is funny and heartbreaking at the same time. At first M comes off as the alpha male in the relationship, but then his vulnerability shines through. You can't help but root for M.
Jenny Jamora, as W, is a worthy rival. Jenny portrays W's complexities, how she is both fragile and self-assured, gentle and tough.
Rounding off the talented cast is theater veteran Auddie Gemora as F. Audie's portrayal of F—a father who unconditionally loves his son—is endearing. F arrives towards the end of the play, but he jumps in with guns blazing.
Cock tackles the ambiguities of sexual identity. Is sexual orientation genetic, or a matter of choice? Can one fall in love with a person regardless of gender or preference? The play doesn't offer easy answers but raises questions instead.
To quote the character of M, Cock is "the ultimate bitch fight." You may find yourself flinching one minute and then laughing the next. Like John, you may have a hard time choosing sides. It is easy to get invested in the characters.


Until the last minute, you hold your breath and wonder which lover John will choose. As in a street fight, there is carnage, but you can't tear your eyes away from the action.
ADVERTISEMENT - CONTINUE READING BELOW
Cock will run from March 7 to April 6, 2014 at Whitespace, 2314 Chino Roces Ave. Extension, Makati. There will be a special closing gala on April 6, 8 p.m.
Tickets are available through TicketWorld (Tel. No. 891-9999) or Ticketworld Online.

Interested parties may also contact Red Turnip Theater via email redturniptheater@mail.com or http://www.facebook.com/RedTurnipTheater