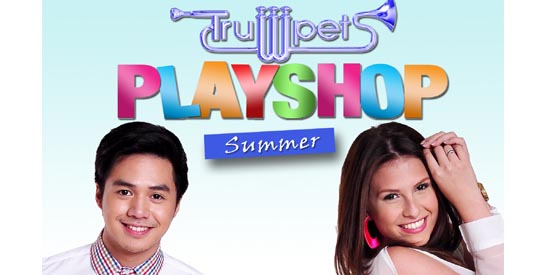 ---
PRESS STATEMENT FROM TRUMPETS:
When TRUMPETS Playshop says it's going to be a bigger and bolder 2014, they really mean it!
Introducing, the Playshop Talent Factory—a talent and booking agency with the goal of providing Playshoppers with opportunities to practice what they have learned within the halls of Playshop in the real world.
"We started Talent Factory because, unknown to many people, Playshop has really been a great source of talent," says TRUMPETS President and Playshop's Artistic Director Audie Gemora.
Over the past 20 years, its graduates have gone into every single field—theater, television, recording, events production, dancing, name it!
And a good number of these practitioners will say that they have taken at least one class with Playshop.
"Now, we want to take a more active role in ushering these young and talented Playshoppers into the entertainment field," the veteran actor explains.
NOT JUST ANOTHER TALENT AGENCY. Playshop Talent Factory is more than just getting its talents into the next audition, or the next TV show.
It provides excellent training, a nurturing environment and a good foundation not just for talents but for character as well.
"What's wonderful about Playshop is it's a mentoring place. I personally don't believe children should go into showbiz right away because it's like Hunger Games there.
"It's each kid to his own and matira ang matibay. You may not physically die in the process, but your spirit is the one taking the beating. A child doesn't know any better to be rejected all the time… that's not the environment you want them to grow in," says Audie.
He emphasizes on developing self-worth: it's not about popularity or competing with the rest of the world, but being secure that they are talented and that alone already makes them special.
"Later on, if they do want to go into showbiz, they already have that foundation… Also in showbiz, sometimes you do a teleserye and you don't sleep properly for two days. That's not a good place for kids to grow... We want to be able to control that. We want to make sure that the child's self-worth and character are protected at all times."
ADVERTISEMENT - CONTINUE READING BELOW
Audie also guarantees that Talent Factory will not just provide training for its talents but for their parents as well. We've all heard one too many stories of a very talented child star or teen heartthrob losing his or her way because the parents didn't guide them into the right direction.
"Sometimes in the showbiz world parents want their kids to be popular so bad, and eventually the kids become the breadwinners of the family. We're out to protect the kids, so that means also teaching their parents how to parent a very talented child properly."
THINGS TO COME.The group Playshop Kids is being revived this year under the banner of the Playshop Talent Factory.
Original members of the Playshop Kids include Sam Concepcion and Tippy Dos Santos, as well as Hong Kong Disneyland and Universal Studios Singapore Filipino talents. Right now, after a grueling audition last February, the first batch of Playshop Kids has been selected and are already doing shows and recordings!
Children enrolling in Playshop this summer will also get the chance to become part of the Playshop Kids. The same thing goes for teens, dancers, aspiring models, and even adults who will join this year's summer workshops.
"It doesn't matter what age they begin. When Christian [Bautista] came, he was already 21," says Audie, using the Asian Pop Superstar as an example that age really ain't nothing but a number.
If you've got what it takes, Playshop Talent Factory will make sure that you get to where you want to go.
Soon enough, after the auditions that will be held towards the end of this year's summer workshops, there will be Playshop Teens, Playshop Dancers and Playshop Models who will all be handled and taken care of by the Talent Factory.
So, do you want to be a part of the Playshop Talent Factory? Then make sure you enroll in Playshop now!
ADVERTISEMENT - CONTINUE READING BELOW
TRUMPETS PLAYSHOP starts on April 7, 2014, with workshops in musical theater, streetdance, modeling, public speaking and hosting, and "starpower" (Playshop's trademark special vocal performance class to be taught by members of The Company).
Follow TRUMPETS PLAYSHOP on Facebook, Twitter and Instagram. Visit www.trumpetsplayshop.com for full course descriptions, details, promos, events, and contests for summer 2014!
Call 6362842 and 6317252 and 0917-5864177 or drop by TRUMPETS MusicAdemy (5th Level, Shangri-la Plaza Mall) for inquiries.
Reload on summer fun with TRUMPETS PLAYSHOP!