Who would have thought that using brooms, poles, garbage can lids and paint canisters in a musical show would cause a sensation worldwide?

STOMP has been making music with all kinds of unconventional instruments--including the kitchen sink--for the past twenty-three years on Broadway and twelve blockbuster years at the West End in London. In that span of time, it has been staged 53 countries across 5 continents.

The international percussion show invaded the Philippines when it was staged at the Cultural Center of the Philippines three years ago.

This 2014, STOMP returns to Manila with two new routines and a cast member raring to perform for his kababayans.

Andres Fernandez was born in Hawaii to a father who hails from Masbate and a mother who originated from Pampanga.

The proudly Pinoy Stomper will make use of ordinary objects to churn out extraordinary sounds during STOMP's June 17 to 22 run at the CCP Main Theater.

"We use brooms, poles, radiator hoses, trash can bins and lids, shopping carts, bendable PVC piping and even the kitchen sink," disclosed Andres in a Skype interview with PEP.ph (Philippine Entertainment Portal).

Andres, who has been performing for STOMP since 1997, has also added the rehearsal director title to his catalog of roles in the Lincoln Theater run of STOMP in its 2012 US tour.

Given the chance, what distinctly Pinoy object would he add to the STOMP repertoire?

"I would probably choose the bamboo sticks from the tinikling dance cause it would make great sounds," he replied.

The new routines added to STOMP are expected to create an astonishing array of rhythm and sound. The segment called "Frogs" will tap a variety of plumbing fixtures while "Trolleys" will make use of fully-laden supermarket trolleys.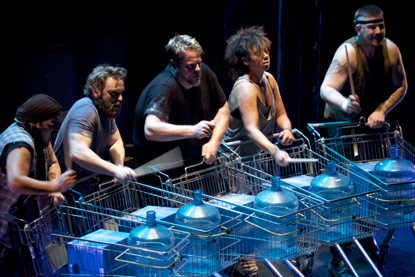 Why does he think STOMP has lasted this long?

"STOMP has lasted so long because there is no dialogue, it can tour all over the world and the creators are always adding new numbers in the show.

"STOMP has lasted long because everyone can relate to it, because it takes household items and turns them in to musical instruments. STOMP shows that music is all around us. Everything makes music."



PINOY SINGER-TURNED-STOMPER. Andres has fond memories of the Philippines although he has only visited the country only twice in the past.

He distinctly remembers visiting the country when he was six years old and again when he was 17 years old.

He recalled, "When I was young my uncle taught me to say 'Can I have money?' in Tagalog. Hahaha! That was fun."

Another memory that stuck with him is the fact that vendors go around at night to peddle fertilized duck egg or balut.

"I love that in the late evenings a guy would walk around saying "BALOT!" and we would go out and get some."

The Hawaii-based performer is counting the days until he gets to return to this tropical country.

"I'm just so extremely excited, I can't wait to get back--it's the first time since Christmas of 1991 since I last visited, promoting my brother's album Puede Ba which was recorded in the Philippines."

Andres's touring performances in the Hawaiian islands with his big brother Johnny (1999 Miss Saigon US tour alumnus) included special appearances as opening acts for Filipino music icons Gary Valenciano and Martin Nievera.


For tickets to STOMP, visit Ticketworld Online or call Tel. No. 891-9999.