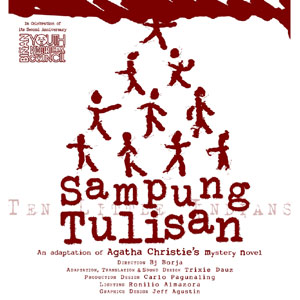 ---

In celebration of its secondanniversary, the Biñan Youth Performance Council (YPC) will present the Tagalogplay, Sampung Tulisan. This is an adaptation of Agatha Christie's mysterythriller novel Ten Little Indians / And Then There Were None. Play datesare December 13 and 14 in Colegio San Antonio, Biñan, Laguna, and on December15 in Pacita Astrodome, San Pedro, Laguna. The play will be staged at 7:00 pmin both venues.

AgathaChristie was an English crime fiction writer. Her numerous detective novelsgave rise to her title as the "Queen of Crime" and made her one of the mostimportant and innovative writers in the development of the genre.


Theplay is based on Christie's book, which was first published in the UK in 1939and was republished in the United States in 1940. It is about ten people, eachwith something to hide and something to fear. These ten strangerseach receive letters, signed by an old friend, to live in a lonely mansion on Indian Island. On thedeserted island, they are cut off from everything but each other and theinescapable shadows of their past. One by one, the guests share the darksecrets of their wicked lives. And one by one, they start to diemysteriously. It isn't until the remaining guests see an old nursery rhymeabout different ways you can die that they realize what their fate will soon be.
YPC founder and artistic director BJ Borja leads the artistic staff as thedirector of this play. Also included in the artistic staff are: Trixie Dauz, adaptation andsound design; Carlo Pagunaling, production design; Ronilio Almazora, lightsdesign; and Jeff Agustin, graphics design.
YPCis a non-stock cultural organization that mounts celebrated productions tobring the arts closer to the community. YPC aims to preserve the arts andcultural practices in Biñan and its neighboring towns through spearheadingworthwhile projects that involve the youth, such as art productions, especiallytheater.
ADVERTISEMENT - CONTINUE READING BELOW
Forother inquiries regarding the production, please contact YPC at 09192160440 and09166758311. Or you can email nsdp_ypc@yahoo.com
Performancedates: December 13, 14and 15
Venues: Colegio San Antonio, Biñan, Laguna andPacita Astrodome, San Pedro, Laguna (7 p.m.)