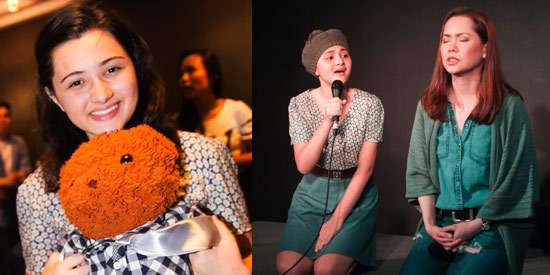 ---
The reference website Dictionary.com defines edgy as "daringly innovative; on the cutting edge." The Sandbox Collective, a performing arts and theater company launched only last May, interprets edgy in two ways: first is by choosing a material that tackles a rarely explored theme and second is by giving a material a new perspective.
The Sandbox Collective's inaugural production, Dani Girl, falls into the first category. Dani Girl is touted as a groundbreaking Off-Broadway musical that tells the uplifting tale of a young girl's battle with leukemia. It is written by Michael Kooman and Christopher Dimond, winners of the 2010 Jonathan Larson Award, which was established in honor of the late composer of the now classic musical RENT.
Dani Girl has also charmed audiences in theater festivals across the United States, Canada, and Australia. It will be staged in Manila, as well as in Asia, from July 11-27 at the Carlos P. Romulo Auditorium, RCBC Plaza, Makati City.
Toff de Venecia, founder and managing artist director of The Sandbox Collective, recalled during the theater group's launch how he found the material.
"This [Dani Girl] was the last one that we applied for, and it was the first one that gave us a resounding yes," he said. "I feel like it's Divine Providence. I was browsing through like a hundred, two hundred musicals that we can option. And if you browse through that list, there are hardly any descriptions there. You just see the title there basically."
He admitted with a laugh that he was initially attracted to Dani Girl because its title reminded him of the 1997 song Tubthumping by the British band Chumbawamba. A line from that song goes "Oh, Danny Boy…"
But Toff—also a director whose past stage productions include All Shook Up, Freakshow, Little Shop of Horrors (which has earned a Broadway World nomination), 13: The Musical, Company Call, and A New Brain—eventually fell in love with Dani Girl after reading its synopsis. He remembered telling his colleagues, like his company's operations manager Anna Santamaria, "You know what, this is our show."
ADVERTISEMENT - CONTINUE READING BELOW
Addressing the audience at the launch, he explained why he came up to that conclusion: "As a creative, I have such a deep and personal connection to loss and tragedy, and predicaments and circumstances that are sort of insurmountable. I have particular connection to materials that are sort of that.
"And also just to be able to create good, socially relevant, and just meaningful conversations to this. That is something that we super believe in The Sandbox Collective: conversations. How do you have these conversations with your audiences, and even as they leave the theater, how do you continue these conversations well into the next day, and even as the day go on."
Dani Girl is also the perfect launching pad for The Sandbox Collective, Toff said, because the company is targeting specifically the 18-to-30-year-old crowd.
"This musical is so fantastical that you are transported in outer space and into the bloodstream like the teddy bear and swimming alongside white blood cells," he pointed out. "There's a lot of ways to stage that. I think there's a commercial way of staging it, for example, when you say heaven, you see clouds… But there's also a way of staging it by pushing the boundaries. You're just giving the audience a stake in the creative process… We want to offer something different. There's a new audience that's emerging."
In Dani Girl, nine-year-old Dani Lyons (played by teenager Rebecca Coates, alternating with Mitzie Lao) is afflicted anew with cancer after being in remission for three years. When her caring mom (Shiela Valderrama, alternating with Pamela Imperial) is not around, she goes on an imaginary quest with her guardian angel Raph (Lorenz Martinez, alternating with Reb Atadero), her film-obsessed hospital roommate Marty (Luigi Quesada), and her teddy bear named Mr. Fritz.
ADVERTISEMENT - CONTINUE READING BELOW
She and her gang animatedly find ways to get Dani's hair back, which she had lost to chemotherapy, and ultimately to get the answer to the question, "Why is cancer?"


TALKING TO CANCER PATIENTS. At The Sandbox Collective's launch, the actors performed excerpts from the musical. They also answered questions from the press during the Q&A portion. They gave insights about their characters and their preparations for their roles.
"I think what we're really doing now is researching," Reb Atadero, who plays a total of 13 varied characters. "And thank God for our dramaturge Giselle Garcia! She's really helped us understand a lot about these characters, about this situation, and the background of the story. Of course, about the disease. She really helped us understand all of that, so I think research will be our best weapon."
Part of that research, Pamela Imperial added, is visiting institutions catering to pediatric patients. One such organization is Child Haus, or Center for Health Improvement & Life Development, a temporary shelter for indigent patients from the different provinces who have cancer or other dreaded diseases and have no place to stay in Metro Manila while they are undergoing medical evaluation or treatment.
"For me, the blessing in doing this musical is the opportunity to open our eyes for the things we usually take for granted," she said, nodding. "So iba when you're walking down the street, and you see a woman in a bandana. You know that she's going through something. It's different. And for us the story could be about a child kasi lahat tayo, we all go through something, we all have difficulties. But to open yourself to a child going through something that's seemingly insurmountable is I think a blessing for us to go through the journey."
ADVERTISEMENT - CONTINUE READING BELOW
The two girls who share the titular role, Rebecca Coates and Mitzie Lao, were also tasked to consult a pediatric oncologist to learn more about cancer and the patients. "I think that this whole process of research, it really takes us to a different place, like taking in the shoes of the cancer patient. And we really want to respect the material so much," Mitzie said.
The Sandbox Collective's Toff de Venecia announced that aside from staging shows that tackle socially relevant and sensitive subject matter, such as pediatric cancer in Dani Girl, his company is also set on re-imagining materials in a different and edgier way.
In their website, The Sandbox Collective breaks down its yearly programming into three parts: RE:IMAGINE ("a unique and off-kilter exploration of an existing show from Broadway, Off-Broadway or The West End"); BLUEPRINT (an original, "created in partnership with new artistic voices"); and THE IMAGINARIUM (an international multi-arts festival that aims to develop, reintroduce, and present new, groundbreaking, and cutting-edge theatrical work").
Theatergoers now have more and exciting productions to look forward to.
--


Dani Girl will have 15 performances, starting July 11 to 27, at the Carlos P. Romulo Auditorium of the RCBC Plaza in Makati City. For show-buying, block-buying, and ticket inquiries, please contact The Sandbox Collective at Tel. No. 582-6909 or 0917-8996680.
You may also call Ticketworld at Tel. No. 891-9999 or visit TicketworldOnline.