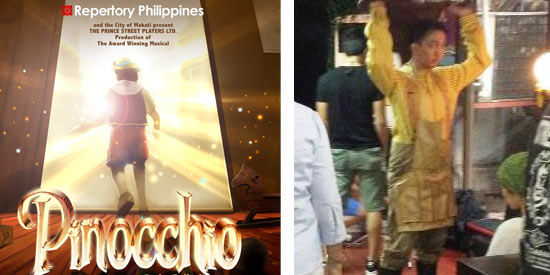 ---
In celebration of its 22 years of producing well-loved musicals for children of all ages, Repertory Philippines Theater for Young Audiences proudly announces a richly imaginative offering with the staging of Pinocchio, the story of a familiar wooden puppet who wants to become a real boy whose nose grows when he tells a lie.

Pinocchio is set to open on August 16, 2014 at Onstage, 2/F, Greenbelt 1, Paseo de Roxas cor. Legazpi St., Makati City. The show runs until December 12, 2014.
Originally written as a serial in 1881, Le avventure di Pinocchio (The Adventures of Pinocchio), its popularity was given a boost when Walt Disney made it into a popular 1940 animated film. The story has been filmed many other times, including a 2002 live-action version starring 50-year-old Oscar-winner Roberto Benigni as Pinocchio.
The contemporary celebration of Pinocchio has been newly adapted for today's young audiences in this award-winning musical based on the Book by Carlo Collodi, Adaptation and Lyrics by Jim Eiler; and Music by Jim Eiler and Jeanne Bargy.
Set in Italy, this version tells the beloved tale of Pinocchio, a boy-sized puppet built by the caring puppet maker, Geppetto. Knowing of his longing for a son, the Blue Fairy brings Pinocchio to life as a reward for Geppetto's remarkably generous spirit. Pinocchio is told by the Blue Fairy that if he always obeys his father, she will turn him into a real boy. But the best laid plans can sometimes go awry and Pinocchio's boyish longings lead him away from his father and on an adventure unlike any other. From the Land of The Toys to the belly of a whale, Pinocchio learns that no love is greater than that of a parent for a child.
Ms. Joy Virata, artistic director of Repertory Philippines Theater for Young Audiences will direct Pinocchio. This marks her third time to direct this musical since it was produced in 1996 and 2004 respectively.
ADVERTISEMENT - CONTINUE READING BELOW
This new and fresh production of Pinocchio is going to be a real treat for the entire family with a flurry of masks, music and merriment. It will be alive, charming and bursting with energy. The children in the audience will be spellbound with its visually stunning and colorful set design and costumes with loads of fun.
For this production, the role of Pinocchio will be alternately performed by Albert Silos, Noel Comia, Daniel Drilon, Guido Gatmaytan, Sofie Wong and Andee Achacoso. Pinocchio's character is the epitome of naïve innocence and is led into trouble time and time again because of it. He is a curious, impressionable, and a sincere young lad.
Oliver Usison and Nic Campos shall alternately play the role of GEPETTO, a toy maker who is noticeably warm-hearted and caring, spirited and fun loving. He is constantly yearning for a son and wants nothing but the best for Pinocchio.
Arnel Carrion and James Stacey will alternately play the role of ANTONIO, the story's narrator, as well as other characters in the village. He will interact with the audience throughout the show with his inviting, engaging, energetic charm.
Antonio Lane and Jay Pangilinan shall alternately tackle the role of CANDLEWICK, the young and rambunctious rule-breaker. With his bratty and mischievous attitude, he leads Pinocchio into trouble with several other boys.
Natalie Everett, Ring Antonio and Bituin Escalante will alternately essay the role of Angelina, Geppetto's housekeeper. She cares deeply for Geppetto's well being and possesses a loving rapport with him. A thoughtful and clever woman.
Liesl Batucan, Christine Flores and Cara Barredo will alternately play the role of the Blue Fairy, an omniscient presence and motherly figure. She looks out for and guides Pinocchio. She is kind, gentle, and generous to those pure of heart.
ADVERTISEMENT - CONTINUE READING BELOW
Steven Conde and Steven Hotchkiss will alternately play the role of Signore Volpone, the ringleader of a sinister plot to exploit naive children. He operates as the "brains" of the operation and keeps Signore Gatto in his place. Portrayed as a fox, he is dishonest thief with great cunning and craftiness.
Chino Veguillas and Dingdong Rosales will alternately bring to life the role of Signore Gatto, the less intelligent sidekick of Signore Volpone. Portrayed as a cat, he is a dishonest thief and blindly follows his boss.
Onyl Torres, Raul Montesa and Bituin Escalante will alternately play the role of Coachman.
Vien King and Steven Conde will alternately play the role of Gino.
The ensemble is composed of the following: Khevin Almario, Mano Domingo, Gold Soon, Thea Gloria, Gabri Panlilio, Ina Salonga, David Shawn Delgado, Justine Pena, Daniel Delgado, James Perez, Kendrick Ibasco, Cristy Paredo, Mica Fajardo, Astarte Abraham and Nicolle Cojuangco.
A really brilliant musical for kids, Pinocchio promises to be a completely unique theatre experience: a modern remix of the original story told with vim, verve, vibrancy with the overall message of the importance of good behavior.
For details of show, please call Tel. Nos. 571-6926 and 571-4941; or send an email to shows@repertoryphilippines.com or log on to www.repertoryphilippines.com.

Tickets are also available through Ticketworld at Tel. No. 891-9999 or visit Ticketworld Online