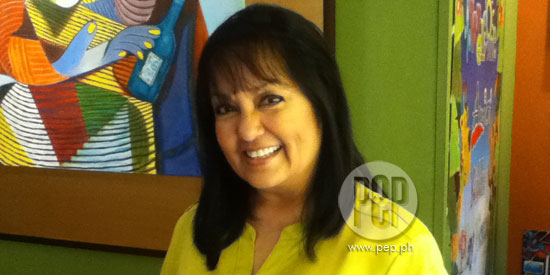 ---
The award-winning play, Flipzoids, will be shown until July 19 at the Music Museum. Written by Ralph B. Peña, Flipzoids chronicles the experiences of three immigrants in America trying to connect in a new homeland. The title is taken from the '80s derogatory term FLIP or "F---ing Little Island People."

Set in 1985 on a beach in Southern California, the socially confused Redford is looking for love and companionship in the men's restroom when he meets Aying. Aying is an aging Filipina who longs to return back to her homeland; a reversal of her daughter Vangie who tries her best to leave her heritage behind.
The chance meeting presents three different perspectives of Filipinos living on different shores. Becca Godinez, who portrays Aying, is an award-winning veteran of song and stage and is also the first-time producer of the play itself. She relates that Ralph B. Peña, a Fil-Am himself, based the three characters on actual people.

Vangie's character was based on a woman Ralph knew who wanted to improve or educate herself so more people would respect her. Redford was a composition of the many nieces and nephews and children born in America with their parents forgetting to impart a sense of Filipino culture in them.

"Yung character ko naman is a 72-year-old woman who was born and raised in Pagudpud, Ilocos," Becca describes. "Ayaw na ayaw na ayaw niya talagang tumira sa America and she talks about these beautiful things about Pagudpud… She's a little kooky, she's a little quirky and this character was based on a family member ni Ralph. Loosely. She was a very naughty old woman."
The nurse Vangie is played by Ellen D. Williams. She's played several Fil-Am characters in other plays and is recognized as Patrice from the later seasons of the How I Met Your Mother sitcom. Her character Vangie is desperate to acclimate to American culture, to the point of memorizing the dictionary.

She feels that the main theme of the show is "…that these three people are trying to find a sense of belonging. For my character, it's a belonging in the States. For his [Maxwel Corpuz's] character, he's from the states but he's trying to connect to his culture or belonging to his family. With Aying, she has the need to go back to home… And I think it's a story that anyone can really related to, whether you're Fil-Am, whether you're from the Philippines originally or wherever. It's about a sense of wanting to belong. You get that no matter what. Wherever you're from, you get that connection."
ADVERTISEMENT - CONTINUE READING BELOW
Maxwel Corpuz, a resident of California with writing, directing, dancing, acting credits under his belt, plays Redford, the "lost boy." Redford seeks to find his own identity in the United States, his sexuality being an understated factor in it.

Maxwel, who's visiting the motherland for the first time, says that the best comments that Fil-Ams have said about seeing the show would be "when they recognize the characters in their own lives. Seeing family again. Seeing an auntie who's a nurse who's just like Vangie or 'My lola is exactly like Aying.' Usually for my character it's a bit of a reach because Redford is a bit on the edge, he's a bit of a fringe character but there's many youth who are mentally like him. So being able to recognize these people in their own lives is a big thing for Fil-Ams in America."
Flipzoids may be set nearly 30 years in the past but its themes and subtext are universal. Becca Godinez comments: "We had people from different races who said this is not just a Filipino story. It's any immigrant who goes to a different country and tries to belong… one of my best friends is Samoan and she said, 'It was my story; it was my family's story. [Take it out of the Philippines] and bring it into Samoa and it's the same story.'"

For tickets to Flipzoids, call Ticketworld at Tel. No. 891-9999 or visit TicketWorld Online.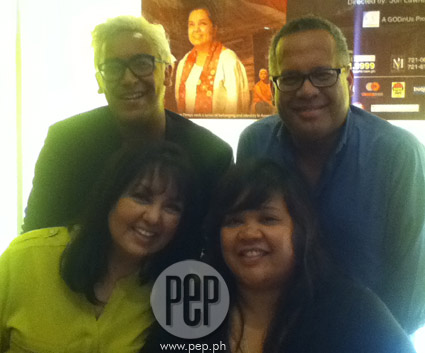 (From upper left, clockwise) Maxwel Corpuz who plays Redford, FLIPzoids director Jon Lawrence Rivera, Ellen Williams who plays Vangie, and Becca Godinez who plays Aying.