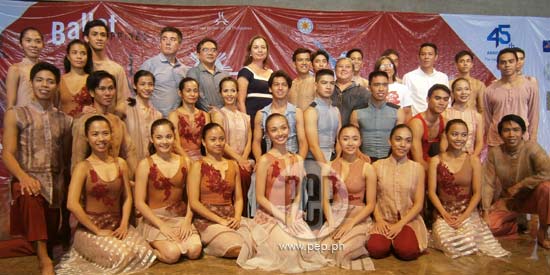 ---
"An external revolution is not enough, we have to have an internal revolution. We have to change from within in order to become a nation of one." This statement, albeit over a hundred years old, still rings true even to this day. This message is what Agnes Locsin wishes to convey through the exquisite art of dance.
In celebration of its 45th anniversay, Ballet Philippines brings back La Revolucion Filipina, a masterpiece that features music by Ryan Cayabyab, libretto by Dennis Marasigan and choreographed by Agnes Locsin, former artistic director and resident choreographer of Ballet Philippines. This will be the fourth re-staging of the show since it was first performed in 1996.
The production earned Outstanding Dance Production and Outstanding Choreography for Agnes Locsin at the 2008 Gawad Buhay awards and she was also the gawad CCP awardee for dance in 2012.
La Rev aims to shed a different kind of light on how we perceive history through the eyes of Apolinario Mabini and how it would hopefully give us a better understanding of our past and how it correlates to our present situation.
"Most of the time we blame the American/Spanish colonial influence, this time ipapalabas kung ano ang ginawa natin, kung ano ang ginawa ng Pilipino at bakit tayo nagka ganito," says Locsin.
In this year's re-staging, Apolinario Mabini is played by Sonny Locsin (Agnes' nephew) and Jean Marc Cordero. Emilio Aguinaldo will be played by Richardson Yadao and Nicolo Magno.
Aside from their classical ballet lessons, the dancers attended a Locsin dance workshop in Davao for six weeks of intensive training and immersion in her signature Neo-Ethnic dance style—a technique that integrates ethnic movements and modern dance. Locsin travelled all over the country to study various katutubo dances in order to be able to incorporate them into her choreography.
ADVERTISEMENT - CONTINUE READING BELOW
Dennis Marasigan (libretist) further says that La Revolucion Filipina hopes to "cultivate the consciousness and the desire to look back at history to learn about it and to really learn from it."
When asked what he thought would be the selling point of this production to the young, Marasigan pointed outl: "Learning history is just a plus, I would tell them to watch [La Revolucion Filipina] because it is fun and that they will experience something they haven't experienced before."
La Revolucion Filipina will be staged at the Tanghalang Nicanor Abelardo (Cultural Center of the Philippines Main Theater) from July 25-27, 2014. Show schedules are at 3 pm and 8 pm (Friday and Saturday) 2 pm and 6 pm (Sunday).