After a 10-year hiatus, Repertory Philippines' again re-stages the Theater for Young Audiences' musical play Pinocchio, the familiar tale of a wooden puppet who wants to become a real boy and whose nose grows when he tells a lie.

Now on its third staging (the first was in 1996), this classic, beloved and well-known tale, set in old Italy, was originally written as the serial Le Avventure di Pinocchio (The Adventures of Pinocchio) by Italian writer Carlo Collodi in 1881 and has charmed generation after generation of fairytale enthusiasts. This story has been filmed many times and its popularity was given a boost when Walt Disney made it into a popular 1940 animated film. Its latest live-action version, in 2002, starred the 50-year-old Oscar-winner Roberto Benigni.
Last August 12, the inner child in us was brought to life, at least for an hour and a half, when we watched the premiere of the award-winning, feel-good musical Pinocchio at Greenbelt's Onstage Theater.
The boy-sized puppet Pinocchio was the greatest masterpiece created by Maestro Gepetto, the caring and generous puppet and toy maker who always longed for a son.

As a reward for Gepetto's remarkably generous spirit, the Blue Fairy brings the puppet to life (well, almost), telling Pinocchio that if he always obeys his father, she will turn him into a "real" boy. However, all magic comes with a price, and Pinocchio must be able to pay that price in order for the magic to stay.

Alas, the best laid plans can sometimes go awry as the curious, impressionable, and a sincere Pinocchio's boyish longing and naïve innocence leads him away from his father and into trouble time and time again.

Along the way, he also gets into an adventure unlike any other--from the Land of the Toys ("the best place in the world" where "smart" kids like them can create make a "donkey" out of a teacher) to the belly of a giant, Italian-speaking sperm whale (where he is finally reunited with Gepetto). In the end, Pinocchio learns that there is no love is greater than that of a father's love for a son.
This new and fresh production of Repertory Philippines' Pinocchio, adapted for the stage by Jim Eiler (music by Jim Eiler and Jeanne Bargy) and directed by Joy Virata (artistic director of Repertory Philippines Theater for Young Audiences), is a modern and beautiful remix of the original story told with vim, verve and vibrancy.

A real treat for the entire family, this fresh and really brilliant onstage rendition was alive, charming and bursting with energy as the adults and children in the audience it were held spellbound by the visually stunning and colorful set design (by London-based Oliver Roxas-Green), costumes (Liz Batoctoy) and flurry of masks; the witty, clever and catchy songs and dialogue of Colodi's comic characters; and the merriment. It is truly a completely unique theatre experience with a good message (the importance of good behavior) that everybody from all walks of life will enjoy.
Noel Comia Jr. (Aladdin and the Magic Lamp and Jack and the Beanstalk), who played Pinocchio during the show, was chosen from a pool of 18 auditionees of which 6 thespians were chosen to alternately play the title role.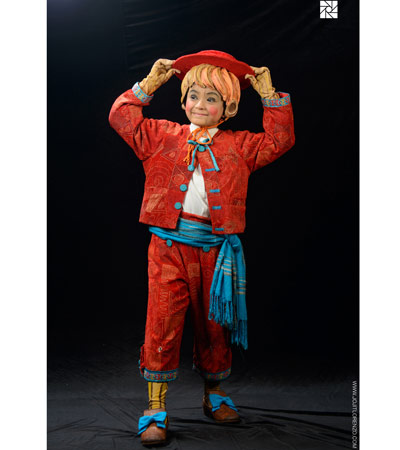 Noel Comia Jr. as Pinocchio



The five others were Albert Silos (the youngest of the six, one of the royal children in The King and I at Resorts World Manila and the young prince in Ang Prinsipe at ang Pulubi at Gantimpala Theater), the 11-year-old Sofia Wong (has been part of the musicals by Chancel for the past four years, the 10-year-old Andee Achacoso, (her first professional theater debut), 10-year-old Daniel Drilon (Joseph and the Amazing Technicolor Dreamcoat) and Guido Gatmaytan (Priscilla: Queen of the Desert and Trumpets' Bluebird of Happiness). These delightfully brilliant and professional children brought an endearingly unique touch of their own personality to the title character.
Supporting these young ones are a bevy of veteran and up-and-coming actors and actresses with varied theater experiences.

Liesl Batucan, who played Pinocchio in 1996, played the role of the kind and gentle Blue Fairy, an omniscient presence and motherly figure who is generous to those pure of heart and looks out for and guides Pinocchio. Her alternates are Christine Flores and Cara Barredo. Oliver Unison played the elderly, noticeably warm-hearted and caring, spirited and fun loving Maestro Gepetto. His alternates are Miguel Faustmann and Nic Campos. Arnel Carrion played the Antonio, the carpenter friend of Gepetto and the story's good-natured narrator who interacts with the audience throughout the show with his inviting, engaging, energetic charm and "Buon Giorno" song. His alternates are James Stacey and Nic Campos.
Natalie Everett played Angelina, Geppetto's thoughtful and clever housekeeper who cares deeply for Geppetto's well being and possesses a loving rapport with him. Her alternates are Ring Antonio, Bituin Escalante and Goldie Soon. Chris George Schulze played Candlewick, the young and rambunctious rule-breaker and smart-aleck street urchin with a bratty and mischievous attitude who leads Pinocchio into trouble with several other boys. His alternates are Antonio Lane, Jay Pangilinan and Daniel Delgado.
Jef Flores played the curious Signore Volpone, the ringleader of a sinister plot to exploit naive children. Portrayed as a fox, this dishonest but wise thief, with great cunning and craftiness, operates as the "brains" of the operation and keeps his sidekick Signore Gatto in his place. His alternates are Chris George Schulze and Only Torres. Chino Veguillas played Signore Gatto, the dishonest thief and less intelligent sidekick of Signore Volpone. Portrayed as a cat, he blindly follows his boss Signore Volpone. His alternates are Steven Hotchkiss and Kendrick Ibasco.
Steven Conde played Gino, the equally naughty sidekick of Candlewick who also helps Pinocchio disobey his father. His alternates are Thea Gloria, Cara Barredo and Vien Alen King. Bituin Escalante played the evil Coachman who lured children into the sinister "Land of Toys." Alternates are Raul Montesa and Only Torres.
The ensemble is composed of the following: Astarte Abraham, Khevin Almario, Jorel Bico, Tristan Cheng, Nicolle Cojuangco, Daryl Del Rosario, David Shawn Delgado, Mano Domingo, Raffy Echem, Isabel Fernando, Bianca Mauricio, Vinni Misa, Gabri Panlilio, Justine Pena, Cristy Peredo, James Perez, Mark Salazar, Ina Salonga, Peregrine Santiago and Dwight Vito Cruz. The ballet dancers were Erica Jacinto, Jacqui Jacinto, Joni Galeste, Jeff Comeros and Mark Joseph Pineda while the acrobats were Clark Francis dela Riva, Tristan Cheng and Chill Ocampo.
Pinocchio, presented through special arrangement with Music Theater International (MTI), is set to open on August 16, 2014 at Onstage, 2nd floor, Greenbelt 1, Paseo de Roxas corner Legazpi St., Makati City. The show will run until December 12, 2014.

For show details, contact Tel. No. 843-3570 and 451-1474, email shows@repertoryphilippines.com or log on to www.repertoryphilippines.com. Tickets are also available through Ticketworld at 891-9999 or visit Ticketworld Online.