David Blaine made a name for himself as a performer of street and close-up magic in his hit television specials David Blaine: Street Magic and Magic Man.

While doing magic tricks for random people in the street, be it classic card tricks to sleight of hand illusions to levitation, Blaine would always leave his audience baffled and in utter disbelief. Over a decade in the industry, David Blaine has managed to re-invent himself as an endurance artist, putting him ahead of other performers because of the fact that the risks involved in the stunts he create are far too real.

On September 12, Filipinos will have the chance to see the 41-year-old endurance artist live in action at the Smart Araneta Coliseum.

(Read: Magician David Blaine to hold Manila show this September)


Let's look back at David Blaine's most dangerous and outrageous stunts to date:
1. Buried Alive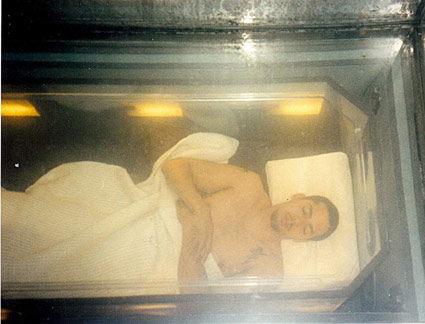 Imagine lying down in a what resembled a transparent coffin with a mere six inches of headroom and two inches on both sides, nothing short of nightmare for the claustrophobic. To serve as a cover, a 3-ton water-filled tank was placed on top of the coffin.

Over the course of one week in April 1999, David Blaine lay there buried in the ground and was visited by an estimated 75,000 people, one of which was Marie H. Blood, niece of legendary magician and escape artist Harry Houdini.
2. Frozen In Time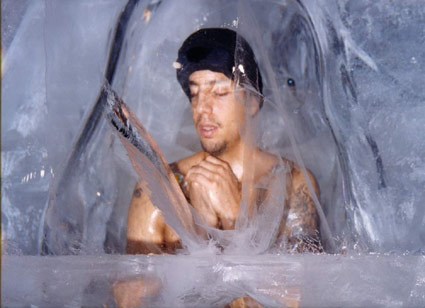 A year after his debut as an endurance artist, Blaine setup his new stunt in November 2000. He decided to encase himself in a chamber made of massive ice blocks, a tube supplied him with air and water while another tube was used to dispose of his urine. The ice chamber was transparent and was perched on an elevated platform so that every one could monitor him. The magician managed to stay inside the freezing chamber without sleep, an amazing ordeal that lasted 63 hours, 42 minutes and 15 seconds.
3.Vertigo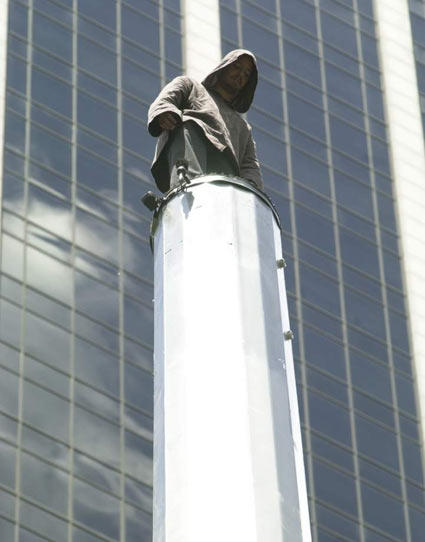 In May 2002, David Blaine was lifted by a crane onto a 100-ft-high narrow pillar, without any harness or safety equipment, he remained standing on the pillar for 36 hours. This not only tested his physical strength but also his mental toughness as well. According to Blaine he was begining to hallucinate to the point that the buildings around him started to look like big animal heads. He ended his stunt by jumping onto a pile of cardboard boxes that gave him a mild concussion.
4. Above The Below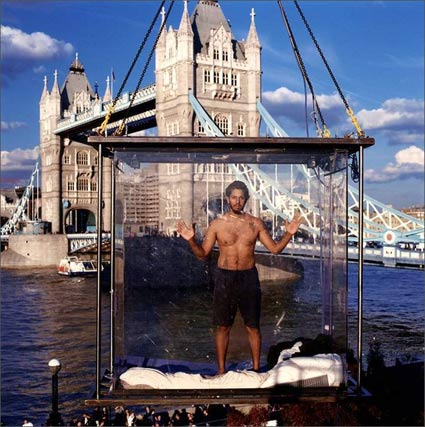 The endurance artist decided to take his craft to London in September 2003. This time he lived in a transparent box suspended by steel cables high up in the air for 44 days. As if this wasn't bad enough, he had to endure all of this while fasting (no food) and surviving on nothing but water. At one point, someone from the crowd attached a cheeseburger on a string and tied it to a remote controlled helicopter and flew it up to his glass box to taunt him. According to Blaine, this was one of the most difficult things he's ever done but also one of the most beautiful.
5. Drowned Alive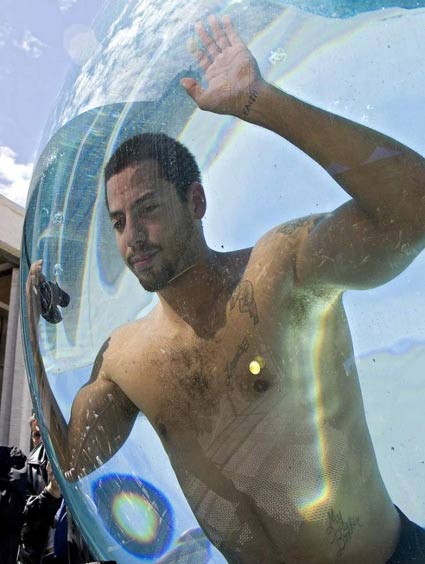 In May 2006, David Blaine set his eyes on a stunt that, according to him, was inspired by his obsession with Harry Houdini's feats of escape under water. He setup an 8 ft. sphere filled with water where he stayed submerged for seven days and seven nights. He suffered from a severe case of skin breakdown, caused by being submerged in water for a long period of time. He was using tubes for air and nourishment to sustain him. At the end of the stunt, Blaine attempted to break the then world record of 8 minutes and 58 seconds for holding his breath underwater while trying to remove cuffs to his hands and feet. At 7 minutes and 13 seconds, a team of support divers had to dive into the sphere and remove the remaining cuffs from the endurance artist since he started convulsing. His attempt was 1 minute and 50 seconds short of reaching his goal.
6. Dive Of Death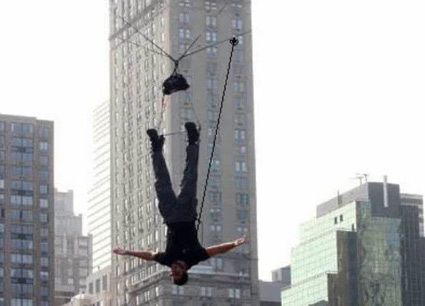 In a stunt funded by Donald Trump in September 2008, David Blaine has to once again be suspended high up in the air but this time, he has to be upside down. The endurance artist had to do this for a gruelling 60 hours while struggling with muscle spasms, lack of sleep, no food and contending to manage all the blood rushing to his head. According to medical experts, Blaine risked stroke and blindness as blood pressure in the eyes increased.
7. Revolution
In November 2006, Blaine had a new challenge in mind. He was to be shackled on a gyroscope which was suspended mid air and rotating at 8 revolutions per minute. This challenge was unique as it was for a cause. Should Blaine be sucessful in this feat, 100 less fortunate children were going to be given $500 gift certificates each so they can go on a shopping spree at Target. Fifty-two hours later, a weakend and dehydrated Blaine managed to free himself from the shackles and jump down 30 feet onto a wooden platform to complete the challenge.
8. Electrified: 1 Million Volts Always On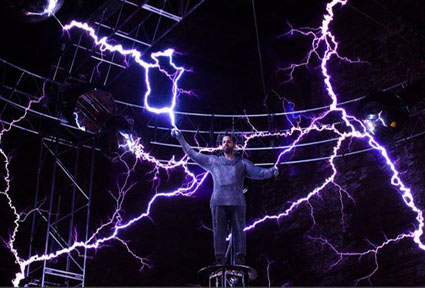 In his most ambitious and outrageous stunt to date, David Blaine partnered with Intel and had setup a 22 ft. pillar surrounded by seven Tesla coils all of which were constantly blasting at least 1 million volts at him. During this stunt held in October 2012, the renowned street magician had to stand on the pillar for 72 hours while being protected only by a 32-pound chainmail Faraday suit. He had to go through the whole ordeal without sleeping or eating. If anything went wrong, David risked third degree burns or even death. To make things more interactive, laptops that had direct control over the Tesla coils were accessible to the audience so they could control how much voltage was being produced and which Tesla coil would be activated at a certain time.