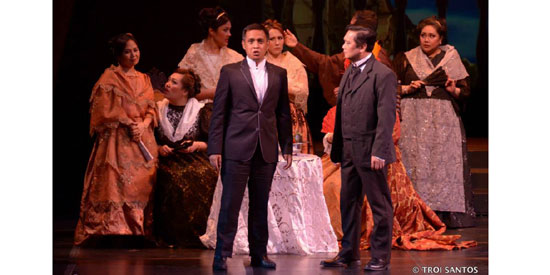 ---

After having successful runs in New York and Washington D.C., Noli Me Tangere: The Opera will finally be staged in the Philippines.

Loida Nicolas Lewis, who brought Noli Me Tangere: The Opera to Washington and New York, describes this production as "a masterpiece by a Filipino for Filipinos."

Jose Rizal's novel of the same title is now brought to life through a three-act opera.

It is the brainchild of two National Artists: Felipe De Leon who composed the music and Guillermo Tolentino who created the libretto. The opera is directed by Freddie Santos, a renowned Filipino theater and concert director with 35 years of professional experience behind him.

JS Productions Inc., together with Resorts World Manila, is bringing this timeless masterpiece onto the Manila stage.

Noli Me Tangere: The Opera will run from September 11 to 28 at Resorts World Manila's Newport Performing Arts Theater. The opera, sung in Tagalog, will be shown with English supertitles.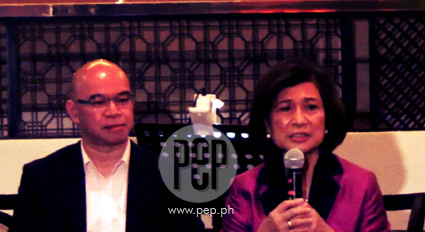 Producer Jerry Sibal (left) with honorary chair Loida Lewis (right). Photo by Trixie Dauz.



According to the organizers, their goal is to showcase Filipino artistry by utilizing an Italian theater form and fusing it with our national hero's opus.

To achieve this goal, they created this grand production with a budget of P40 million.

Lewis explains: "Why is it P40 million? Because it's so expensive. The costumes, designs, paying our orchestra, the singers, and, the staff. That's 100 people that you will pay for 30 days, if not more!"

When asked why they are willing to spend so much money for just one production, she answers: "Because it is worth it. Because it is our very own. It's not Verdi's, you know, it's not Carmen, it's not Madame Butterfly. It is not Shrek or Sound of Music. It is our very own."

For the Manila leg of the production, Ivan Niccolo portrays Crisostomo Ibarra while Myramae Meneses brings life to Maria Clara.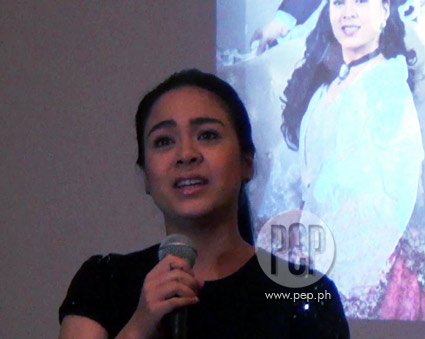 Myramae Meneses. Photo by Trixie Dauz.


Andrew Fernando is cast as the oppressive Padre Damaso while Greg De Leon plays the mysterious Elias.

There will be live music during each performance, courtesy of the Manila Philharmonic Orchestra, with Maestro Rodel Colmenar as the conductor. Other members of the artistic team are: Jerry Sibal (who's also one of the producers) as the production designer and Camille Lopez Molina as the vocal master.

The press conference held at the Passions restaurant in Maxims Hotel also served as a preview of the opera based on the 19th-century novel of Jose Rizal.

Aside from enjoying a sumptuous four-course meal, attendees were treated to different performances by the cast members. The title of the arias performed were Maria Clara's "Kay Tamis ng Buhay", Ibarra's "Aking Isinangguni", Basilio's "Gising Na, O Ina Ko", and Elias' "Ang Iwi Kong Buhay."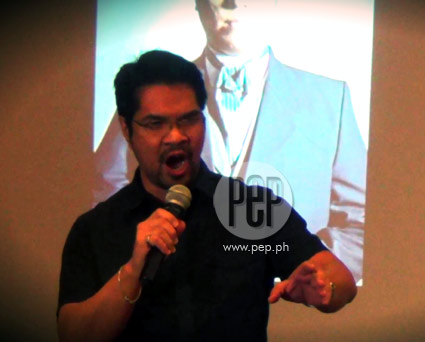 Greg De Leon as Elias. Photo by Trixie Dauz.



When PEP (Philippine Entertainment Portal) interviewed Greg De Leon, he mentioned that he will portray his character in a non-stereotypical manner.

"The natural tendency is to portray Elias as a vulnerable, weak, and about-to-die character. It came to my mind na, why can I not portray Elias, even though he's dying, na matapang pa rin at saka ayaw patulong?"

As for his preparations for the role, he disclosed, "We rehearse every Tuesday up to Sunday. Weekdays are from 6 pm to 10 pm. During weekends, we start at 2 o'clock in the afternoon until the evening. I think we'll start to rehearse on stage starting next week." He alternates with Noel Ascona, an opera singer from UST.

Noli Me Tangere: The Opera follows the story of Juan Crisostomo Ibarra, who returns to the Philippines after pursuing scholarly studies in Europe.

He plans to open up a school and marry Maria Clara, his betrothed. However, parish priest Padre Damaso, the archenemy of the Ibarras, is out to hinder Crisostomo's plans, which creates "a dramatic storyline of forbidden love, betrayal and revenge."

Noli Me Tangere (Touch Me Not) depicts the abuses suffered by the native Indios at the hands of Spanish tyrants. The opera paints us a clear picture of the so called "social cancer" that illustrates the rotten system of governance, the illicit ways of the church and the unfavorable trade of the privilege class.



Ivan Niccolo sings an aria as Crisostomo Ibarra



Noli Me Tangere: The Opera will be shown at the Newport Performing Arts Theater located in Resorts World Manila. Its gala night is scheduled to take place on September 11. It will have both matinee (3 pm) and evening shows (8 pm). It will run until September 28.

A portion of the ticket sales will be used for opera singer' scholarships, as well as towards the care of Noli Me Tangere's original copy which is housed at the National Library.

For more details, visit the Facebook page of (https://www.facebook.com/nolioperamanila).

Tickets are available through TicketWorld Online or call Tel. No. 891-9999.


ADVERTISEMENT - CONTINUE READING BELOW