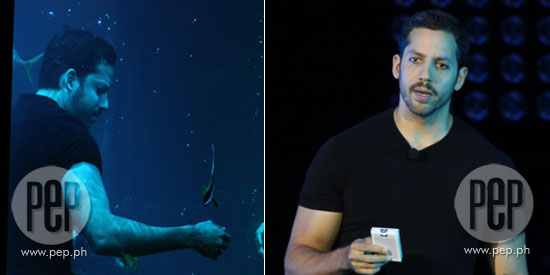 ---
"Good evening, Manila!" he shouted amidst a good turnout of audience at the Araneta Coliseum last night, September 12.
Clad in a simple black shirt, slacks, and leather shoes, American magician, illusionist, and endurance artist David Blaine is nothing like the old-school type of magicians in top hats and tails.
He came out the stage with no frills and whatnot.
David just brought himself, his magic cards, and some utensils that can easily be found at home.
"I didn't bring what we typically assume magicians use.
"I don't have strings. I don't have smoking mirrors. I don't have curtains or boxes.
"My props are very simple.
"As a matter of fact, I can say it's something as simple as water," he began.
FIRE AND WATER TRICK. David opened the show drinking three liters of water in succession—something which he claimed could prove fatal to one's health.
"There's something called water intoxication," he further explained.
"It's when you flush electrolytes from your system by overhydrating."
Building excitement as he spoke in a deceptively relaxed manner, he swallowed some flammable liquid and breathed fire to a torch on the left side of the stage.
What came next was quite spectacular as he began to put out the fire by spouting the water he just drank.
MAGIC CARDS. Known for his street magic tricks, David displayed his trademark magical snap, where he asked a random girl to sign a card.
David shuffled it with the other cards and magically picked out the signed one over and over again.
To further impress the audience, he explained how cheating gamblers would intentionally crimp a winning card to easily pick it out.
David then placed the slightly creased card in the middle of the pack, snapped his fingers (way above the cards for good measure), and voila! The card magically appeared on top.
ADVERTISEMENT - CONTINUE READING BELOW
The crowd became even more impressed when David threw cards on stage and the specific card picked by another random girl magically turned up between her wrist and watch.
MISSING PUZZLE. David's puzzle trick seemed a bit more complicated.
He asked a high school student to pick six out of 2,000 pieces of puzzle inside a clear jar.
Upon a closer look through the LED screens at the Big Dome, David emphasized that the design of the six pieces of puzzle varied from one another.
Finally, he asked the high school girl to pick one and see if it fits the missing piece from the assembled puzzle on stage.
Much to the amazement of the girl as well as the audience, it fits!


ICE PICK TRICK. Looking for more volunteers amongst the audience, David chose a family of three to join him for his ice pick trick.


The mom was an obstetrician and David joked that at least he'd feel safe knowing that a doctor's in the house just in case things go wrong with his next performance.
David even asked the doctor to thoroughly inspect the ice pick to make sure of its sharpness and authenticity.
After which, he instructed the doctor's daughter to slowly insert the ice pick into his hand.
For effect, David turned his hand with the palm up to show that the ice pick went through.
When the girl pulled it back again, there was no blood stain and David unbelievably remained unscathed.


TEST OF ENDURANCE. Aside from being an illusionist, David is world-famous for his daredevil stunts like being encased in a massive block of ice for 62 hours and standing in the middle of a one million-volt lightening storm for 72 hours.
He once held the world record for holding his breath underwater for 17 minutes and 4.5 seconds at an episode of the Oprah Winfrey Show in 2008.


(Read: TOP LIST: 8 Outrageous Stunts of David Blaine)
ADVERTISEMENT - CONTINUE READING BELOW
For the finale of his Manila tour, David submerged himself into a life-sized aquarium, situated at the back of the patron area of the Big Dome.
A random girl even volunteered to join him underwater for several seconds just to check if the stunt is for real.
In the end, David clocked in 10 minutes, 29 seconds, and 15 milliseconds, which was certainly no mean feat.
For his parting shot, David said to his Filipino fans: "I wanna thank you all for the best audience that we had. Love you all! See you soon!"
Indeed, the audience was left wanting for more crazy stunts.
At the same time, one couldn't help but think of the logical explanations behind David's amazing optical illusions.
Overall, it was a good mix of crazy and typical magic tricks that would nevertherless render one in awe way after the show.
What's the secret to his tricks?
Leave it to David and just enjoy the magic.