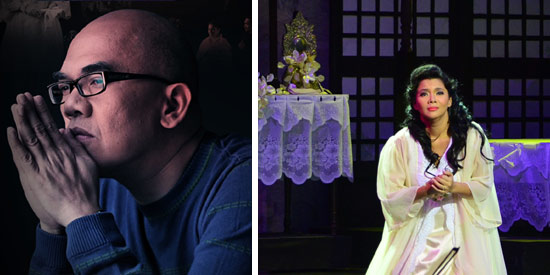 ---

What happens after a song? Can the story carry on after the novel's tragic ending?


In 1886, Jose Rizal was in wintry Berlin, struggling with his first novel. He was strapped for cash, recurrently sick, and because of fever was unable to fetch his good friend Maximo Viola from the train station. It was Viola who would lend him P300 to print the first 2000 copies of Noli Me Tangere.

The publication of the novel in 1887 would lead to tremendous suffering for our National Hero; its tragic conclusion was reinforced by his arrest, exile, and eventual execution at the age of 35.

But Noli's legacy endured—it would serve to inspire the Filipino revolution against Spanish colonial rule. Its story would prove timeless, recorded in the hearts and minds of our people, inciting many Filipinos into action till today.

In 2012, Filipino-American business leader Loida Nicolas-Lewis was in Chicago, listening for the first time to Noli Me Tangere the Opera, which was composed by Felipe de Leon with a libretto written by Guillermo Tolentino. This time, it was the song that would inspire her to mount the first opera in Filipino language in New York, Washington, and then back in Manila, where it was first heard more than 50 years ago.

"The Philippines is again the midst of a powerful revolution," Lewis said at the Noli Me Tangere the Opera gala at the Newport Performing Arts Theater, Resorts World. "Now therefore is the best time to have the literature of our national hero, Dr. Jose Rizal, to guide us."

Her vision was shared by other Filipinos who have earned successful careers in New York such as artist Jerry Sibal and real estate broker Edwin Josue. Both worked with Lewis in producing the opera. Even television host Boy Abunda was inspired to take part in bringing Noli the Opera back to the Philippines.

In a touching message, Abunda said: "While it has been my honor to be part of this historic production of Noli Me Tangere, sadly at the most crucial time I was incapacitated by my misbehaving liver and I was not able to contribute as fully as I would have wanted. Coming unexpectedly and completely as it did, like Don Anastasio in the novel, I can only view my sudden powerlessness philosophically knowing that the work, like the revolution, is never over.

"I pray that with God's grace and the incredible talents and inexhaustible resolve of all those involved in this project, we will be able to do justice to the timeless work of Jose Rizal."

Through the help of producers such as Boy Abunda, Filipinos now have the chance to Noli Me Tangere the Opera that is being staged at the Newport Performing Arts Theater, Resorts World Manila until September 28, 2014.

Rizal's great novel was a seething force not only because it exposed the injustice of Spanish colonial rule, but because it revealed to the world the many faces of Filipinos fighting, despite the odds, against oppression and staggering adversity.

Theatergoers now have the chance to see its resilient characters brought to life with live orchestra music and the vibrant voices of top-notch opera singers.

For the Manila run, Sal Malaki and Antoni Mendezona reprised the roles they played during the U.S. run as Crisostomo Ibarra and Sisa, respectively.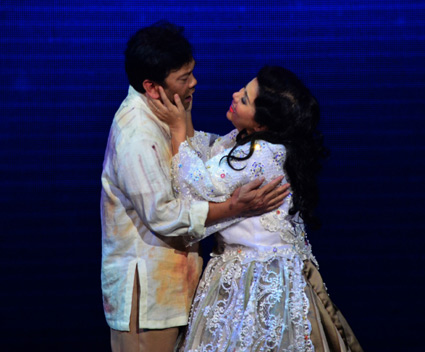 Sal Malaki as Crisostomo Ibarra and Rachelle Gerodias as Maria Clara
ADVERTISEMENT - CONTINUE READING BELOW



Malaki has been touted by many as the foremost Filipino tenor, having performed in more than 85 opera productions with the Los Angeles Opera. He aims to evoke the idealism, love, and heartbreak of Crisostomo Ibarra in this production.

His character is seen having tussles with Padre Damaso (played by Andrew Fernando) and sweetly serenading Maria Clara (played by Rachelle Gerodias). Crisostomo is driven by his dream of building a school for "indios" and by his love for Maria Clara. However, he suffers a major blow when his character is humiliated by Damaso and imprisoned by the guardia civil.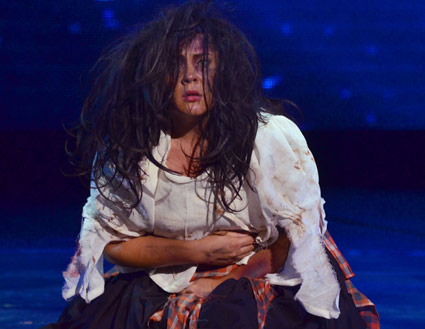 Antoni Mendezona as Sisa


Mendezona, on the other hand, is a Filipino-Spanish coloratura who leaves a mark on viewers as she portrays Sisa. There is depth and dynamism, tragedy and faith in the unforgettable scene wherein she searches desperately for her lost children.

When she dies, her son Basilio (Eggo Velasco) pays tribute to her with a melancholy ballad: "Aking inang sinisinta, idilat mong mga mata. Ako ngayo'y nag-iisa, si Crispin ma'y wala na."


Other aspects of the Opera to look forward too are the orchestra music performed by the Manila Philharmonic Orchestra under the baton of Rodel Colmenar and the rich video-projected backdrops. The video-projected scenes with subtitles, as noted by Carlos Celdran, "heightened the experience" and made the opera "accessible."


The potent portrayal of Rizal's characters, complemented by the music and beautiful lyrics that can be read through the subtitles, aims to capture the anguish and determination of Filipinos who have endured and fought Spanish rule. Moreover, lines such as that of Elias (played by Noel Azcona) will awaken a sense of history, patriotism, and concern for the Filipino plight against injustice today. "Huwag ninyong lilimutin ang mga nabuwal sa gitna ng dilim. Hindi lahat ay natulog sa gabi ng iyong mga ninuno!"


Noli Me Tangere the Opera is musically poignant and possesses the same inspiration as Rizal's novel. Just as the book spurred Filipinos back then to join the revolution, and just as the music inspired Loida Nicolas-Lewis and Boy Abunda to stage it again in the Philippines, Noli Me Tangere the Opera aims to move Filipinos to feel and act for our country. It is that rare production that transcends pages and theater walls, and moves people beyond sentiment towards greater accomplishments.


ADVERTISEMENT - CONTINUE READING BELOW
A portion of the ticket sales will be used for opera singer' scholarships, as well as towards the care of Noli Me Tangere's original copy which is housed at the National Library.

(To learn more about this production, CLICK HERE)