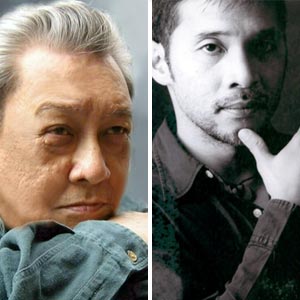 ---
Repertory Philippines begins the New Yearwith a thoughtful perspective on life in its production of Tuesdays with Morrie, a stage adaptation of the best-selling novel.
Mitch Albom's recounting of the finalmonths he spent with his terminally ill yet eternally inspiring collegeprofessor, is an uplifting tonic for souls left parched by the mundaneactivities of day-to-day life. Working with acclaimed playwright JeffreyHatcher, Albom has distilled his mentor's final thesis on life into a powerfuland transformative piece for the theater, seamlessly blending Morrie's candidobservations about life and death with dashes of his inextinguishable humor.
The material is wonderfully poignant, anddirector Baby Barredo hasselected a particularly fine cast to bring it to life. Bart Guingona plays the author Mitch Albom, at the time a harriedsportswriter from Detroit who chances upon a Ted Koppel interview of his oldcollege professor Morrie Schwartz on Nightline, and decides to pay him avisit. Jose Mari Avellanaplays Morrie, who, despite beingstricken with Lou Gehrig's disease, manages over the course of the followingmonths to impart to his former student the most important lessons of all.
Bart Guingona is a veteran of about ahundred theatrical productions in the Philippines, and is considered one of thecountry's most respected actors and directors. His acclaimed portrayals includethe lead characters of Hamlet, Macbeth, andJohn Proctor in The Crucible. Guingona is known for thepassion and sensitivity he brings to his performances as well as to his owndirectorial efforts.
The progeny of two National Artists, JoseMari Avellana, lives up to his family name with an eclectic career that spansover four decades and two continents. Having made his mark in the world of radio, television, and film, hereturns to the Repertory stage bringing an abundance of experience to hisportrayal of Morrie Schwartz.
ADVERTISEMENT - CONTINUE READING BELOW
Tuesdays with Morrie will beperformed at the Onstage Theater, 2/F Greenbelt 1, Ayala Center, Makati Cityfrom January 11 to 27, 2008. Shows are scheduled on Fridays and Saturdays at 8pm with Saturday and Sunday matinees at 3:30pm. For ticket inquiries or show buying opportunities, contactRepertory Philippines at 8870710 or visit www.repertory-philippines.com.Tickets also available at Ticketworld at 8919999 or their website at www.ticketworld.com.ph