JC Santos will don a bahag to play the titular role as an Ilocano hero for Tanghalang Pilipino's ethno-epic musical Lam-ang.
The ABS-CBN actor said during the recent press con for Lam-ang, "I didn't actually have to adapt a diet or exercise regimen to prepare for the role because our rehearsal schedule has been demanding enough. It's like we're in the military! We have been rehearsing for four hours every day: vocalizing, warming up, stretching--and working on very difficult choreography. Starting next week, we will be rehearsing for nine hours!"
Anna Luna, who will play the hero's great love, Kannoyan, says that she was not required by the show's creative team to work toward an ideal body. There is no love scene between them, but there are many fight scenes and, she says, "I need to keep up with JC!"
It is the first time that JC is performing with Tanghalang Pilipino. He graduated from the Theater Arts program of the University of the Philippines and has played protagonist roles before, but this will be the first time that he is headlining a musical.
"I'm nervous because I need to be a triple threat! But I am honored to finally be part of a TP production. I dreamed of this as a teenager growing up in Pampanga!"
Anna, who has performed in PETA (Philippine Educational Theater Association) productions, admits: "It has been my dream to perform with TP. I attended a TP workshop. But I was not sure if I would have the chance to work with them again. I was insecure that they needed actors that were much better than I was. So, I am thankful for this opportunity!"
JC and Anna auditioned for their respective parts. According to Marco Viaña, co-director and set designer, they were impressed by JC because: "When he auditioned, he not only performed the song that we sent him to learn, he had a clear interpretation of the character and also, full choreography and props."
BRINGING THE STORY OF LAM-ANG TO THE STAGE
Why ethno-epic? According to Eljay Castro Deldoc, who wrote the new book and lyrics, this comes from National Artist for Literature Virgilio Almario's clarification that the "epic" is a Western concept, and the term "epikong bayan" or ethno-epic is a better way to describe such literature from the Philippines.
Although the story of Lam-ang is studied as part of the Philippine educational system curriculum, it is not widely appreciated--nor even remembered--by Filipinos.
Even a quick survey of the members of the company of TP before rehearsals began proved as much. And so, Eljay says, it is important to "introduce pats of Filipino literature now more than ever, to educate our fellow Filipinos about our own culture and literature."
Co-director Firz Bitana, who is a native of Abra, is passionate about bringing the story to contemporary audiences who may not even have heard of Lam-ang. "Where I am from, everyone knows the story of Lam-ang.
"However, in Ilocos, there are about 10-20 versions of the story. And because it is based on oral tradition, there is no definite, concrete structure. It becomes more colorful, more rich in the telling of different versions, depending on the place."
This staging does not claim to be the definitive story of Lam-ang. After all, up to the present, scholars have not been able to identify the exact origins of the story.
TP's artistic director, Nanding Josef, lauds the "fresh blood" that flows throughout this production, noting that its staging, a longtime dream of his and many others, is important now more than ever "to promote theater for education and a sense of nationalism, and to promote artistic excellence," which are among the thrusts of Tanghalang Pilipino.
Much research went into the crafting of the different aspects of the play. First, the germ of the idea came from Fitz. He and Jen Darlene Torres, both from the UP Theater Arts program, talked about bringing back Lam-ang to the present Filipino consciousness.
Jen eventually wrote Lam-ang as a musical for her thesis. The musical depends on elements of ethnic culture but also includes pop, rock, and alternative music in order "to reach the youth, this generation, so that they can relate to it."
The costumes were designed Mountain Province native Bonsai Cielo. The choreography by JM Cabiling is "inspired by traditional dances based on research, with elements from the contemporary."
According to Marco, they based much of Lam-ang on the Tingguian indigenous people of Abra: "We found a resource online by Fay-Cooper Cole, and on other research, so that we rooted our staging on the economic and social life of the Tingguians. To clarify, we were inspired by their culture, costumes, rituals, beliefs, and religious and government structures. We also made sure that our treatment of the Igorots, whom the Spanish authorities considered as villains, is not biased."
When asked whether he was ready to perform onstage wearing only a loincloth--the traditional dress of the Tingguians--JC quipped: "Oh, definitely! I'm used to getting naked!"
Tanghalang Pilipino will perform Lam-ang: An Ethno-Epic Musical for 13 shows from December 6 to 15, 2019 at the Tanghalang Aurelio Tolentino of the Cultural Center of the Philippines. Tickets are available from the CCP Box Office, Ticketworld, Ticket 2 Me, Blimo, and TP Office.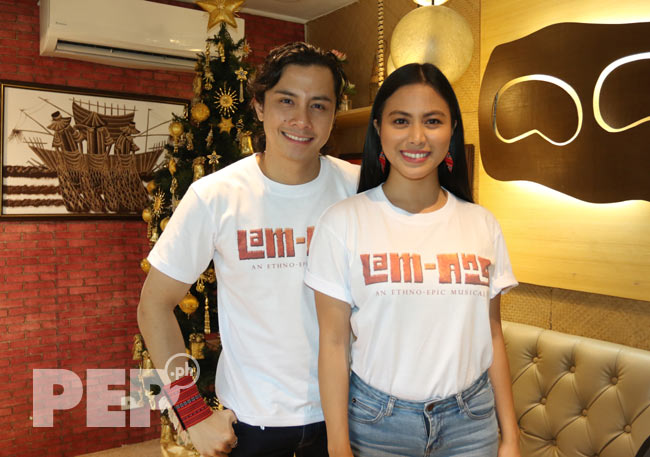 JC Santos and Anna Luna top-bill the musical play Lam-ang.