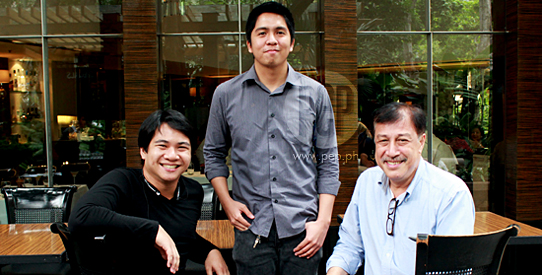 ---

Broadway musical Chicago is set to bring its glamorous production to Manila. This production will be the first musical to be staged at The Theatre, Solaire Resort and Casino starting December 3, 2014.
CHICAGO is based from the musical-comedy film of the same title, but now translated on stage. On November 23, CHICAGO stages its 7,486th performance, making it officially the longest-running American musical on Broadway. It has won six Tony Awards including Best Musical Revival, two Olivier Awards, and a Grammy for Best Musical Cast Recording.
EAST MEETS WEST. One thing that sets CHICAGO apart from other Broadway musicals previously staged in the country is the fact that Filipino talents have been tapped to form a band and play live for all 23 shows.
PEP.ph (Philippine Entertainment Portal) was able to chat with three of the twelve musicians included in CHICAGO's line-up.
ABS-CBN Philharmonic Orchestra member Francois Mendoza will be playing the trombone. Meanwhile, 9 Works Theatrical??s musical director Joseph Tolentino will be on the piano.
ADVERTISEMENT - CONTINUE READING BELOW
UP College of Music Professor Lester Demetillo will be exchanging his classical guitar for the mandolin, the ukulele, and the banjo.
"I played for the CCP orchestra, which is more classical based. This is a different genre.
"I??ve been doing so many classical music all through the years, and I mean, orchestra music. The last time that I did something similar to this was Zorba the Greek," explains Dementillo. He also points out that CHICAGO is more inclined towards jazz.
However, he clarifies that "if you have a very strong classical foundation, it??s easy. It??s not really a major turnaround of the usual things."
He adds, "It??s a new type of music that has different feel. It??s not a typical very strict classical type of playing. It??s a little looser. You need a little re-adjusting."
Dementillo is feeling pressured and excited to work with international actors.
ADVERTISEMENT - CONTINUE READING BELOW
"Of course, you have to adjust. We have to accompany singers, stage actors, actresses.
"With actors coming from the U.S. who have honed their skills and talents already and their singing already, there??s gonna be more pressure now here.
"Because a lot of the local musicians, especially it??s gonna be the first time to do this thing.
"So there??s gonna be a lot of pressure there during the practice."
When asked what his favorite track in the musical is, he answers, "If you??re a musican there will be no favorites. Everything, you will always have to give your best on all."
CHICAGO will run from December 3-21, 2014 at The Theatre, Solaire Resort and Casino. Tickets are now available at all TicketWorld outlets nationwide. You can purchase tickets through Ticketworld Online or call Ticketworld at Tel. No. 891-9999.