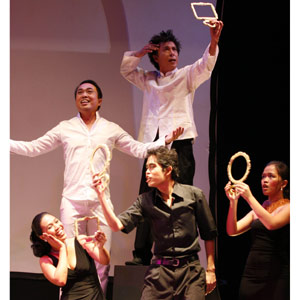 ---

As its third offeringfor its 40th theater season, the Philippine Educational Theater Association(PETA) welcomes 2008 with Vincent de Jesus's Skin-Deep. This livelymusical extols the virtues of being beautiful—both inside and out.
Doctor Beau Batoctol,an internationally famous Filipino cosmetic surgeon opens the world's firstone-stop beauty resort here in the Philippines—the Skin-Deep Beauty Sanctuary.And for its grand opening promo, seven lucky texters will win a chance to stayat Skin-Deep for a month and avail of all the beauty treatments, procedures andsurgeries it has to offer—absolutely free!
The Lucky MakeoverSeven—composed of an obese female call-center agent, a troubled married couple,a male wannabe model, a flamboyant florist, an abused housewife burned beyondrecognition and the reigning Miss Artificial Beauty—go through differentmiracle procedures hoping to become more aesthetically acceptable to the cruelworld.
Skin-Deep, directed by Nor Domingo with music by LucienLetaba and arranged by Melvin Corpin, features some of today's mostadmired theater actors—Robert Seña, Isay Alvarez, May Bayot-de Castro, BituinEscalante, Melvin Lee, Rem Zamora, Phil Noble, Gail Guanlao-Billones, Mary AnnEspinosa, Al Gatmaitan, Glecy Atienza, Diana Malahay, Joel Molina, Onyl Torres,Delphine Buencamino, Neomi Tabanao-Gonzales, Joan Bugcat, Eric dela Cruz andEric Bisa.
Choreography is by Christine Crame-Santillan, costumedesign by Kalila Aguiluz, lighting design by Jonjon Villareal and productiondesign by Leo Abaya.
Skin-Deep goes onstage at the PETA-Phinma Theater onall Fridays, Saturdays and Sundays beginning February 1 until March 9.The PETA Theater Center is located at #5 Eymard Drive, New Manila, Quezon City.Tickets are at P300 each.
For details and otherinquiries, call the PETA Marketing and Public Relations Office at 725-6244, 410-0821,mobile numbers 0917-8154567 or 0918-9354166, email petampro@yahoo.comor mpr@petatheater.com. Schedules are subject tochange without prior notice.
ADVERTISEMENT - CONTINUE READING BELOW