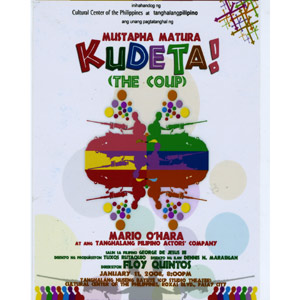 ---

An uprising is expected to take place tonight, January 11,and it's not aimed at causing chaos and anarchy in the country. Kudeta! (The Coup), Tanghalang Pilipino's initial 2008 offering, opensat 8:00 p.m. tonight at the Tanghalang Huseng Batute (Studio Theater) ofthe Cultural Center of the Philippines.
A coup has toppledthe government and the president is held captive in an undisclosed location.Young military officers consolidate their position by trying to make him sign a document confessing to crimes he has committed against thenation. To regain power, the president must use everything in his possession.


Does it sound like news from Philippine newspapers? No, they're based onincidents in the Republic of Trinidad and Tobago located in the Carribean.This archipelago bound by the Carribean Sea and the North Atlantic Ocean is thesetting of Kudeta! (The Coup), a "wickedly funny play" written byMustapha Matura and directed by Floy Quintos from the Filipino translation byGeorge de Jesus III.


The celebrated actor, screen playwright and director Mario O' Hara returns to the stage to star asPresident Eddie Jones, now facing the very same officers he sent for trainingin the Sandhurst Royal Military Academy. The Tanghalang Pilipino Actors Companycomprise the ensemble of coup plotters as well as characters, past and present,that inhabit the president's life and dreams.


Playwright Mustapha Matura was born in Trinidad in 1939 and moved to London in1961. In 1974, he was named The Most Promising Playwright by the EveningStandard and is now considered one of the leading theater figures in Britain.


The Coup was commissioned by the Royal National Theater of Great Britainin 1991. Its run enjoyed great acclaim, with critics calling it an "untidy andintermittently very funny play about an evidently untidy and intermittentlyfunny country," making for a "knowing, affirmative and fun evening."


Kudeta! performance dates are January11,12,18,19,25,26, February 1 and 2 at 8:00 p.m. and January 12,13,19,20,26,27and February 2 and 3 at 3:00 p.m. at the Tanghalang Huseng Batute (StudioTheater) of the Cultural Center of the Philippines. Production design byTuxqs Rutaquio, lighting design by Dennis Marasigan, sound design by JaniceCarol Dee, and direction by Floy Quintos.


Tickets at P500 (regular) and P250 (student) are available at Ticketworld(8919999), CCP Box Office (8323704) and Tanghalang Pilipino (8323661/8321125locals 1620 and 1621.) Discounts available for block sales.
ADVERTISEMENT - CONTINUE READING BELOW