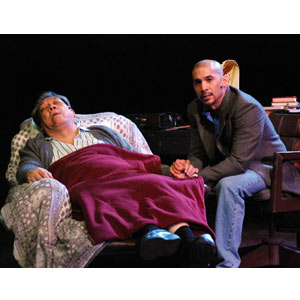 ---

Would you like to enroll in a subject called the meaning oflife? No exams, no papers to submit, no surprise quizzes—just lessons, pure andsimple.
Repertory Philippines brings to Philippine shores thetheater version of Mitch Albom's heartwarming novel about a dying mentor andhis eager-to-learn student. This two-character play stars Jose Mari Avellana asthe insightful Prof. Morrie Schwartz and Bart Guingona as the energeticsportswriter Mitch Albom.
Cited as a best-selling non-fiction book, Tuesdays withMorrie tackles the bond of a college professor with his long-lost studentafter 16 years of separation. When Mitch learns that his Coach Morrie hasdeveloped ALS (Amyotrophic lateralsclerosis), a degenerative disease of the nervous system, the student visitshis former mentor for old times' sake. What was supposed to be a one-time visitturned into weekly appointments with his Coach for noteworthy sessions filledwith wisdom, personal growth, and forgiveness. In a span of a few hours, theaudience will be privy to the private conversations between a career-drivensportswriter and an old professor afflicted with Lou Gehrig's disease.
ADVERTISEMENT - CONTINUE READING BELOW
The set design of Tuesdayswith Morrie is very simple—there is a piano at the left side of the stage;a study with chairs and a desk full of books; a table for two underneath aJapanese maple tree; and a bed that serves as the final resting place ofMorrie.
From start tofinish, Jose Mari Avellana will certainly capture the fancy of the audience.With his classic dance steps, his witty one-liners, and his convincing portrayalof a person suffering from tremors, Jose Mari portrays Morrie withsensitivity and a sense of humor that injects life into an otherwise seriousplay.
Through Bart Guingona, we feel Mitch's passion for hischosen career and his desire to learn from his life coach, Morrie. Even thoughhe is not a "touchy-feely" person, Mitch slowly transforms into a man whounabashedly cries and hugs his dear friend as the end draws near. However, whenMitch was finally saying goodbye to Morrie, all he could muster was a gruff "Ilove you" that sounded forced rather than filled with emotions for his dyingmentor.
ADVERTISEMENT - CONTINUE READING BELOW
Watching Tuesdays with Morrie is a good eye-opener and awonderful way to start the New Year since it will remind you to re-assess yourlife and answer Morrie's haunting question: Are you at peace with yourself?
For inquiries about Tuesdays with Morrie, contactLorna at 09179256505 or TicketNet at 8919999.
Venue:
Onstage, Second Level, Greenbelt 1, Makati City