The sensational Broadway and West End musical CHICAGO sets the stage on fire night after night during its highly-anticipated Manila season, playing only until December 21, 2014 at The Theatre at Solaire.


CHICAGO's witty punchlines, sizzling choreography and jazz-infused melodies continue to razzle-dazzle audiences in Manila—its only Southeast Asian touring destination this year. With countless standing ovations so generously given by Manila theatregoers, it would be a crime not to see this serial showstopper.
The premiere of the show marked the grand opening of the country's newest theatrical luxury hotspot: The Theatre at Solaire. The gleaming 1760-seat theatre has been specially constructed to house the big Broadway and West End shows, in recognition of the Filipino appetite for musical theatre, and firmly placing Manila on the international touring circuit. This fan-shaped lyric theater with a seating capacity of 1,760 is ideal for all forms of the performing arts — be it musical theater, opera, concerto, pop concert, ballet, awards night, competition, circus act, kiddie show, or corporate event.
Set amidst the opulence of the 1920s prohibition era, CHICAGO tells the story of Roxie Hart, a housewife and nightclub dancer with aspirations of becoming a Vaudeville star, who murders her on-the-side-lover after he threatens to walk out on her. Desperate to avoid conviction, she dupes the public, the media and her rival cellmate, Velma Kelly, by hiring CHICAGO's slickest criminal lawyer to transform her malicious crime into a barrage of sensational headlines, the likes of which might just as easily be ripped from today's tabloids.

(To learn more about the musical, read: CHICAGO offers "all that jazz" in Manila until December 21)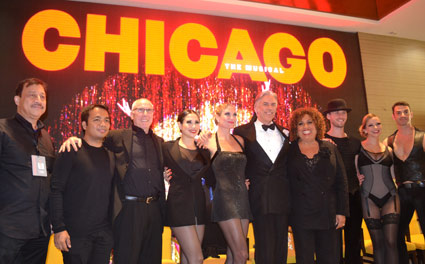 Broadway's No. 1 longest-running American Musical is presented in the Philippines by VISA and SMART Infinity, in cooperation with Solaire Resort and Casino.Tickets are on sale through TicketWorld. Call 891-9999 or visit www.ticketworld.com.ph.
The Manila season of CHICAGO runs until December 21, with no extension possible. Visit www.CHICAGOTheMusical.com for more information. For ticket inquiries, call TicketWorld at Tel. No. 891-9999 or visit TicketworldOnline.
CHICAGO is produced in Manila by Lunchbox Theatrical Productions, David Atkins Enterprises and Concertus Manila.

SEASON DETAILS
MANILA
VENUE: The Theatre at Solaire, 1 Asean Avenue, Entertainment City, Paranaque City 1701, Manila, Philippines
SEASON: Running until 21 December 2014
TICKETS: TUES/WED/THURS (8PM)
Premium Gold P7,500
Orchestra VIP P7,000
Orchestra A Reserve P5,500
Orchestra B Reserve P4,250
Balcony B Reserve P4,250
Balcony C Reserve P 2,250
Balcony D Reserve P 1,750


FRI (8PM) SAT/SUN (3PM and 8PM)
Premium Gold P7,500
Orchestra VIP P7,000
Orchestra A Reserve P5,500
Orchestra B Reserve P4,250
Balcony B Reserve P4,250
Balcony C Reserve P2,500
Balcony D Reserve P2,000