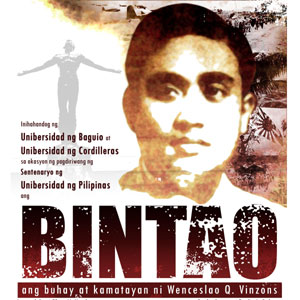 ---

In celebration of the centennial of the University of thePhilippines, the University of Baguio and the University of the Cordilleraspresent the musical, Bintao: Ang Buhay at Kamatayan ni Wenceslao Q. Vinzons.It will be staged on January 26 and 27 (6:30 pm) at the University of theCordilleras Theater, Gov. Pack Road, Baguio City. Penned by Efren Yambot, it isdirected by Ferdinand John L. Balanag, with musical direction by Karlo MarkoAltomonte.
Vinzons was bornin Indan, Camarines Norte, to a wealthy family. As a student, he was theeditor-in-chief of the school publication PhilippineCollegian, head of the Supreme Student Council, and a member of the UpsilonSigma Phi fraternity. He obtained his Bachelor of Laws from the University ofthe Philippines. In 1933, he placed third in the bar examination.
He won a seat inthe Constitutional Convention of 1934 at the age of 23—the youngest conventiondelegate. Bintao established the Young Philippines Party, which became theopponent of Manuel Quezon's Nationalista Party.
In 1942, theJapanese government invaded the Philippines and instituted attacks at differentpoints, using the various docking ports of the country. Bintao organized forces of resistance against the Japanese army called Vinzons' Guerillas.
After hiscapture, rather than bow to the Japanese Imperial power, Bintao—who chose toremain true to his ideals—delivered a line from Francisco Balagtas,reiterating his vision of an independent Philippines, free from any foreigncontrol. Shortly after, he was executed.
Thereafter, newsof Bintao's death and the execution of his family reached the Vinzons' Guerillas. They chose to uphold the vision of a man who was not only a humaneleader, but a friend who instilled in them the importance and essence offreedom that Filipinos should fight and die for—for the sake of generations tocome.


ADVERTISEMENT - CONTINUE READING BELOW
Bintao has left a noteworthy legacy in Philippine history. His hometown, Indan,was renamed after him. In Manila, near Blumentritt, a school is named WenceslaoElementary School. There's Vinzons' Hall, the student center of U.P.Diliman.
Produced byLeonides Bautista and Jesus Benjamin Salvosa, Bintao is dedicated to thememory of the pillars of education in Baguio: Helen and Benjamin Salvosa ofUniversity of the Cordilleras, and Rosa and Fernando Bautista of University ofBaguio. It is the schools' contribution to the centennial celebration of theirfounders' alma mater, the University of the Philippines.
Performances: January 26 and 27 (6:30 pm)
Venue: University of the Cordilleras Theater, Gov. PackRoad, Baguio City
For ticket inquiries and reservations, please contact:Marjorie B. Lee, call: 0917-9983644 or (074) 442-5175 or e-mail:bintao_2008@yahoo.com