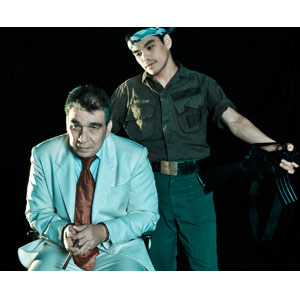 ---
What a coincidence that Tanghalang Pilipino's stagingof the play Kudeta (The Coup) would take place less than twomonths since the last coup d'etat attempt in the Philippines. But theanalogy stops there. The coup plot that was foiled in November 2007 at thenow-infamous Manila Peninsula Hotel was no laughing matter but the theatergroup's Tagalog play is a riotous comedy from start to finish.

Directed by Floy Quintos, Kudeta is based on a play written byTrinidad-born Mustapha Matura and translated into Filipino by George de JesusIII. Written by Matura in 1991, Kudeta has proven tobe a universal look into the mindset of the powers-that-be and the groups thatdare oppose them.

The play opens with a dark and somber scene, with a coffin as the centerpiece,while the sounds of war, military information, and political gossip are passed around, partly in fear, partly in mockery of a dead, deposed president-for-life named Edward Francis Jones (portrayed by director MarioO'Hara).
The next scenes shift to thedays preceding his death: days filled with political bargaining, imprisonmentand torture, power struggle, and distorted truth.
The set of Kudeta is a cutaway view of Pres.Jones's prison cell, which has a long bench and a latrine. It is surrounded bytall trees that are often scaled by the cast members dressed as military soldiers.Tanghalang Pilipino even employed a military consultant to ensure that theirmovements and the way the cast members carry their weapons are as realistic aspossible.
Edward Francis Jones, or simply Eddie,represents both the powers and weaknesses of a democratic government—open-minded yet easily beguiled. Guarding Eddie's military cell is Mikey, acorporal who blindly follows orders yet teeters between his loyalty towards theformer president and a healthy fear of his military superiors who are stagingthe coup.
ADVERTISEMENT - CONTINUE READING BELOW
Three other main characters includeLieutenants Chan and Le Grange, and the sadistic Major Ferret who tortures theex-president. They are military officers who seem to be fighting for theirideals at first but eventually become no more than cheap looters for their ownselfish desires.
Despite the seriousness of the play, director Floy Quintos and the castmembers were very effective in injecting Pinoy humor into almost every scene.Who would have known that you could find humor while watching the ex-presidentbeing tortured? It's truly amazing how Pinoys can translate any dead-seriousevent into a lighthearted moment.
Be prepared for sexually charged scenes that feature strippers who were part ofthe colorful past of ex-president Eddie. Cuss andswear words exchanged by the military personnel also abound.
Mario O' Hara shows off his comical sidein Kudeta as the lustful president who recounts his past exploits, bothpolitical and sexual, for the benefit of his ally Mikey. The director who isbest known for helming Tatlong Taong Walang Diyos (1976) and Babae sa Bubungang Lata (1998) shows that he is ascomfortable behind the camera as he is acting on stage.
There are times, though, that thediscussions seem to be far removed from the experience of Filipinos, especiallysince Pres. Jones and Mikey are discussing the political atmosphere ofTrinidad—an archipelago that most Filipinos have only probably heard of inbeauty pageants.
While watching Tanghalang Pilipino's Kudeta,one can clearly see that during times of desperation, a deposed leader willgrasp at straws and promise the world to those who can ensure that he remains in power. Now, that is definitely no laughing matter.


ADVERTISEMENT - CONTINUE READING BELOW
Performances: January 25, 26 February 1,2 (8 p.m.)
January 26, 27, February 2, 3 (3 p.m.)
Venue: Tanghalang Huseng Batute, CulturalCenter of the Philippines, Pasay City