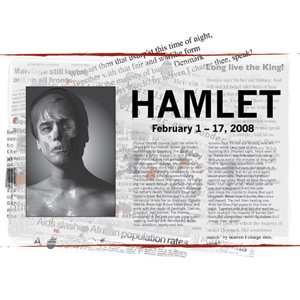 ---
A land ravaged by war. A kingdom struggling to survive. A desperate ghost. A murderous king. An incestuous queen. And a tormented prince, hungry for revenge.

These are the core elements that make up Repertory Philippines's newest stage production. The story is shocking. It is agonizing. It is violent. And it is over 400 years old.

This is Hamlet. And it's unlike anything you've seen before.

Making her directorial debut, Repertory stalwart Ana Abad Santos-Bitong has created a bold new version of Hamlet that strips away all the frills normally associated with a typical Shakespearean production—the flowery costumes, the lavish sets, the British accents—leaving nothing but the raw, brutal story of murder and love and treachery and revenge that is William Shakespeare's most famous work.

Repertory Philippines' Hamlet is set in a land that has also been stripped to its core: a post-apocalyptic wasteland populated by a brutal race of warriors. "I wanted it to look like otherworldly and yet somehow familiar," says Bitong. "My idea was that it could be, might be, our own world, perhaps sometime in the future."

To help bring this harsh realm to life, she enlisted the edgiest young artists she could find: original score composer Jethro Joaquin; stage combat choreographer Paul Morales; costume designer Faust Peneyra; lighting designer Martin Esteva; and set designer Denis Lagdameo, who also designed the production's frighteningly original—and very real—weapons. Though from vastly different fields, they all shared the same vision. "We were all excited about the concept," muses Bitong. "Something more primal, more visceral. In short: Hamlet, stripped down."

ADVERTISEMENT - CONTINUE READING BELOW
But is it still Hamlet? "Definitely," declares the director. "We've stripped the play down to its basic plot, but it's the same story, the same characters, the same lines." Bitong, who trained at the prestigious London Academy of Dramatic Arts, feels strongly about keeping the essence of Shakespeare. So why change anything at all? "If you show something familiar in an unfamiliar way," she explains, "you force people to pay attention."

And with actors like this, how could they not? Leading the cast is Niccolo Manahan, Rep's hottest young performer, assaying what is arguably the most famous theater role in the world. Supporting him are veteran stage performer Joel Trinidad as Claudius; UP Theater Queen Frances Makil-Ignacio as Gertrude; iconic stage and TV actor Bodjie Pascua as Polonius; and Rep's newest leading lady Cris Villonco as Ophelia.


Rounding out the cast are PETA's Randy Villarama; Tanghalang Pilipino's Jerald Napoles; New Voice Company's Jamie Wilson; rising young theater star Felix Rivera; Ateneo Blue Repertory's Pom Docena and Red Concepcion; and Rep regulars Jejie Esguerra, Francis Matheu, and Hans Eckstein.
"We've all just thrown ourselves into it," Bitong says happily. "We've stripped Hamlet naked. And what is left? An immortal masterpiece about greed, love, vengeance, and passion. In short, everything that makes us human."
Hamlet runs from February 1 to 17 at Onstage Greenbelt 1, Makati City. Call 8870710 or log on to http://www.repertory-philippines.com/ for ticket information. Tickets are also available at Ticketworld at 8919999 or http://www.ticketworld.com.ph/