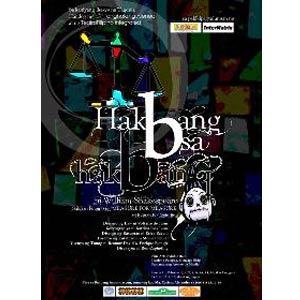 ---
Tanghalang Ateneo and TeatroFilipino Integrated return to William Shakespeare with a novel rendition of Measure for Measure, a play on desire, morality, and justice. Translated as Hakbang sa Hakbang, the production marks the first time the play will be staged in Filipino. It will also showcase student talents under the direction of Ronan Capinding, the acclaimed young director of such plays as Middle Finger Po and Ang Nilalang ni Victor Frankenstein.

Tanghalang Ateneo's Hakbang sa Hakbang draws on dance movements from contemporary pop culture to capture the spirit of permissiveness that marks the play. This fusion of contemporary dance and Shakespearean text reveals as well the persona of the characters and the tone of each scene. Staged in the round, the play also gives audiences the experience of intimately witnessing the story unfold in their midst. One of Shakespeare's problem plays, Hakbang sa Hakbang seeks a philosophy of morals beyond Puritanism and libertarianism.
ADVERTISEMENT - CONTINUE READING BELOW

In the play, the laidback Duke Vincentio (alternately played by Dan Chua and Exzell Macomb) has appointed the austere Angelo (alternately played by Paolo Apagalang and Gelo Brilliantes) to temporarily take his place as ruler while he is on a diplomatic mission.

The new ruler suddenly forces the freewheeling and amoral citizenry into strict adherence to the law.


To serve as a warning, Claudio (alternately played by Kenn Cayunda and Brian Sy), a young nobleman, is arrested and sentenced to immediate death for engaging in premarital sex with his fiancée. Isabel (alternately played by Rizzy Alejandro and Reg de Vera), Claudio's sister and a virtuous nun, hesitantly pleads on her brother's behalf, only to be given an immodest proposal by the supposedly virtuous Angelo—her brother's life for her virginity.

Unknown to all, the Duke, disguised as a friar, has secretly been watching the events unfold. He conspires with Isabel and Mariana (alternately played by Nayie Caga-anan and Ysabel Yuzon), Angelo's long lost fiancée.
ADVERTISEMENT - CONTINUE READING BELOW

They trick Angelo into sleeping with Mariana instead of Isabel, but Angelo still orders Claudio beheaded the next day. The Duke must find another way to save Claudio's life. He secretly weaves the final plot leading to a dramatic revelation scene. With the entire city as the audience, the Duke unmasks himself and decides on the cases of the convicted Claudio and the treacherous Angelo. Do the Duke's pronouncements make moral sense? Will the justice he bestows give everyone a happy ending?

Hakbang sa Hakbang runs until February 16, 2008 at the Fine Arts Exhibit Hall, 3rd Floor, Gonzaga Building, Ateneo de Manila University, Loyola Heights, Quezon City. Show dates are on February 6, 7, 8, 9, 13, 14, 15 and 16 at 7:00 p.m. and February 9 and 16 at 2:00 p.m.

For ticket inquiries and group bookings, please contact 09184733137 or 09188151218.