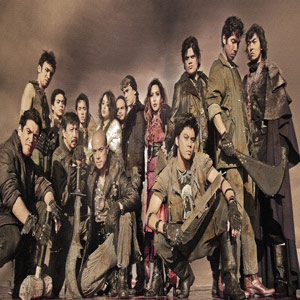 ---
Erase whatever high school English Literature memory you have of Hamlet, because Repertory Philippines first ever take on Shakespeare's tragedy will shock you. As if a storyline of murder, madness, treachery, incest, and vengeance isn't unnerving enough, REP—now in its 71st season—gives the audience something darker, more violent, and raw.


In this retelling of William Shakespeare's tragedy, Prince Hamlet (played by Niccolo Manahan) attempts to seek revenge on his Uncle Claudius (Joel Trinidad) for poisoning his father, King of Denmark (Pom Docena), and ascending to the throne.
"Everyone knows Hamlet and it's been done, so I need to retell it in a different way and also in a way that will get the younger audience," said director Ana Abad Santos-Bitong on her stage directorial debut. "Excited, I thought of a primal Hamlet set in a land ravaged by war. No tights, no lavish sets, no British accents. Just a nameless world stripped its core and a son crying for revenge."

And strip they did. The stage itself is a story, thanks to set designer Denis Lagdameo. It is otherworldly with real dirt, suspended smoke, and lighting that half hides everyone in sinister-like shadow. Denis is also responsible for the very real weapons from huge machetes to katar dagger made of blunted steel that weighs as heavy as it sounds during the fight scenes. The cast donned in elaborate Faust Peneyra's costume of leather and faux fur was so beautifully anti-Shakespeare that you would think it's a TV fantaserye.


Ana was actually inspired by the '80s action film Mad Max which explains other characters Mohawk hair and the nightmarish feel of the set. "It started off from there, then it just grew with my creative team. Everyone shared my vision. We were able to sort of make our own world," she pointed out. Add to that the haunting original score of Jethro Joaquin and a powerhouse cast—it's a production unlike any other.
ADVERTISEMENT - CONTINUE READING BELOW

The audience will love the maddened Prince Hamlet in dark eyeliner played by Niccolo Manahan. He nailed Hamlet's angst-filled soliloquies and spouting the famous line, "To be or not to be: that is the question." But he remains charming in his melancholy. The wonderfully choreographed fight between Hamlet and the ass-kicking Laertes (Jamie Wilson) with realistic albeit blunted weapons left the audience in awe. Joel Trinidad's robust performance as the new king of Denmark, Claudius, commanded attention. "I did Hamlet in the early '90s. I played Laertes and even then, I loved the role of Claudius because he's so evil and so hateful," Joel recalled.


The only ladies on stage, Frances Makil-Ignacio and Cris Villonco, were strong as they were seductive. Frances transformed the weak Gertrude to an attention-hungry and conniving queen, while Cris portrayed a balisong-slinging and passionate Ophelia. It was both amusing and heartbreaking to see Ophelia's downward spiral to madness. "Ana didn't want me running all over the stage. But definitely, you know that something is going on with her head, you know there's been a drastic change," Cris said of Ophelia's "crazy stillness."
Completing the eclectic and talented cast are Bodjie Pascua as Polonius; Randy Villarama as Horatio; Red Concepcion as Rosencrantz; Felix Rivera as Guildenstern; Jejie Esguerra as Osric; Jerald Napoles as Marcellus; Hans Eckstein as Barnardo; Francis Mathue as Francisco; and Pom Docena as the creepy ghost of Hamlet's father.


Although the formal and tedious Shakespearean language is used for the dialogue, audience can very well relate and keep up with the fast-paced story. After all, there's no replacement for striking lines such as, "Frailty, thy name is woman!" or "I will speak daggers to her, but use none."

Catch the madness of Hamlet until February 17 at Onstage Greenbelt 1, Makati City. For inquiries and ticket information log on to http://www.repertory-philippines.com/ or http://www.ticketworld.com.ph/. Interested buyers may also contact Lorna Lopez at 09179256505.
ADVERTISEMENT - CONTINUE READING BELOW

Venue: OnStage, 2nd floor, Greenbelt 1, Ayala Center, Makati City


Performances: February 1-17, 2008
8:00 p.m. on Fridays and Saturday
3:30 p.m. on Saturdays and Sundays