For those looking to broaden their horizons in terms of music, dance and theater arts this Valentine's weekend, look no further than the Pasinaya: CCP Open House Festival.

Pasinaya, which means inauguration or tribute, is a whole day event celebrating various types of culture to be held on February 15, 2015.

This year's theme is growing ASEAN wings, referencing the first ASEAN Performing Arts Market to be held on February 13-15, 2015 in Manila as well. The first ever of its kind, ASEAN seeks to promote and market ASEAN arts performers with contemporary and traditional works in music, dance and theatre. It's a perfect fit to coincide with Pasinaya, adding an emphasis on ASEAN awareness and a sense of community.
Chris Millado, vice president and artistic director of the Cultural Center of the Philippines, points out, "As you know, this is the year of ASEAN integration. All the ASEAN member states are moving towards looking at how to help each other in terms of narrowing development gaps so we all move together as one whole ASEAN and face the challenges and opportunities of the century.
"Representatives of various member states will arrive to talk about what ASEAN integration means to arts and culture and what are the opportunities that it offers in terms of creative industries."

More than 3,000 artists from community-based and school-based artistic groups will participate in the multi-arts festival.

Chris continues, "Ito yung isa sa mga bagong features sa Pasinaya: the variety, the diversity of what we call ASEAN arts and culture. May mga visiting performers tayo from Indonesia and Thailand. And, of course, our resident companies will be performing numbers from their repertoire with ASEAN themes."
Pasinaya has partnered with neighboring museums around the area such as the Metropolitan Museum of Manila, Bahay Tsinoy Museum of Chinese in Philippine Life, 1335 Mabini Space for Contemporary Art and others. In previous editions of Pasinaya, participating institutions were overwhelmed because they've never had that many people walking through their doors during that time before.
This time, in Pasinaya's 11th incarnation, it's Museo Marino turn to join the fold. Manuel Otayza, the general manager of marketing, is "very happy to be partnered with CCP." He describes the Museo Marino's founders of having "...a vision of uplifting the lives of seafarers." and had "...conceptualized of putting up this museum so that the families and ordinary people will know how the lives of the seafarers are."
Pasinaya is described as an open platform for various groups to show what they have to offer throughout the year. Its main objective is to reach the widest audience possible.

"This is an entry level kind of experience, especially those who haven't stepped into the CCP," says Millado. "The Pasinaya allows the populace to experience CCP in the most fun way possible."

On Sunday, February 15, Pasinaya opens at the CCP with an early morning pre-show at 7:30 a.m. featuring the Marcelo H. Del Pilar Performing Arts Group, Marikina Dance Guild and the La Salle Dance Company-Street. This will be followed by the official opening ceremonies and street parade featuring the Citizens' Brigade Band of Dasmarinas, Cavite and the Sindaw Philippines Performing Arts Guild.
Different areas and venues of the CCP have been zoned and dedicated to the various art forms such as dance, music, theater, film and the visual arts. There are zones devoted to workshops and children as well.

Among the listed performers are the UST Symphony Orchestra, the Philippines Ballet Theater, Ramon Obusan Folkloric Group, Tanghalang Pilipino, the Philippine Philharmonic Orchestra, the Bayanihan Philippine National Folk Dance Company and Philippine Madrigal Singers (which is akin to attending a rock concert) and many others.

Following its "Pay What You Can, See All You Can" promotion, entrance to Pasinaya is free, with a suggested minimum donation of P50.

The schedule for Pasinaya may be found in CCP's website http://culturalcenter.gov.ph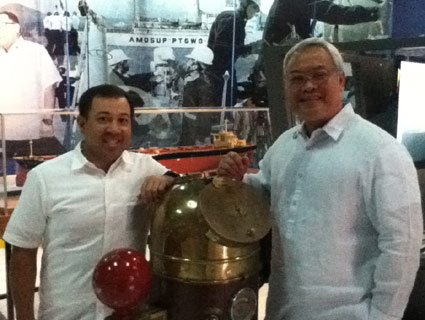 Manuel Otayza of Museo Marino and Chris Millado of CCP