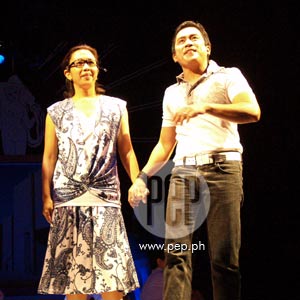 ---
To mangle a famous quote from a popular superhero movie: "With great beauty comes great responsibility." When Dr. Beau Batoctol (played to perfection by Rem Zamora) utters this line in Skin Deep, you know that he takes his job as a plastic surgeon very seriously.
How do you deal with an extremely obese woman, a narcissist, a timid housewife, a verbally challenged model, a vain homosexual, a traumatized burn victim, and a retokada queen? Why, give them a makeover, of course!
For the third offering of its 40th season, the Philippine Educational Theater Association (PETA) presents a satirical comedy that cuts to the core of Filipino standards of beauty. Skin Deep is a hilarious comedy about seven ordinary people who each win a beauty package and a month's stay at the first one-stop beauty resort in the Philippines. Headed by Dr. Beau Batoctol, the Skin Deep Beauty Resort promises to be the "chrysalis" where the soon-to-be "butterflies" will emerge.
In a span of two-and-half hours, the audience will be entertained and enlightened by the insightful songs from Lucien Letaba and Vincent A. de Jesus of Zsa Zsa Zaturnnah fame.
We get to meet The Lucky Makeover Seven who embark on a frenzied search for beauty and happiness. Skin Deep uses a scalpel and peels away layers and layers of insecurity to examine one's need to be accepted. It laments the fact that we live in a superficial world where "packaging" is more important than character.
Call center agent Marikit Evangelista wants to reduce her body weight so she can finally fit in one seat of an airplane. Bituin Escalante might be wearing a fat suit but she shows exceptional grace when she does belly dancing as a form of exercise in the beauty resort.
Narciso Dongcan (Robert Seña) is an advertising man who believes that packaging is more important than the content. He is a narcissist, and egotist and is completely in love with himself. He claims that he went to Skin Deep for the sake of his wife Isadora (Isay Alvarez). Isa is a shy and submissive woman who only wants to please her husband—even to the point of sacrificing her happiness.
ADVERTISEMENT - CONTINUE READING BELOW
Charleston Go (Al Gatmaitan) is a male model wannabe who needs help in conquering his promdi accent. The person most excited to change his physical appearance is Pipay Organza (Phil Noble). He has a kilometric list of changes he wants to do on his body but he will eventually learn that when it comes to matters of the heart, looks isn't everything.
For some people, plastic surgery is a necessity. This is the case of Happy Fuentes (Diana Malahay). The unhappy woman covers herself from head to toe to hide the extensive burn scars all over her body. She narrates how her former husband doused her with gasoline and lit her with a cigarette.
May Bayot steals the limelight as Amor Sangre, the reigning Ms. Artificial Beauty Queen in China. Her character is very straightforward and is known for delivering funny yet insightful comments about her fellow participants.
MAKEOVER MANIA . PETA outdid itself for the props and effects for this play. The set has ramps on the left and right of the stage. There is a rotating circle on the middle of the stage where key scenes are played out. There are props dropping down from the ceiling, including the ingenious "aesthetic appraisal capsule" that is used a tool by Dr. Beau.
The two-act play is filled with numerous production numbers and solo numbers featuring all-original music pertaining to our obsession with physical perfection. In addition, quotes on beauty culled from famous authors are often mentioned during the play, making the audience reevaluate their perspective on beauty.
Through humor and music, PETA engages the audience to see themselves in the seven characters who undergo a makeover. Do we really need reconstructive surgery like Happy or do we just want it for vanity's sake?
With her unmistakable Bisaya accent and excellent comic timing, May Bayot takes the cake in this production. She has the crowd doubling up in laughter especially when she picks a fight with Happy through the song "Don't Take It Out On Me."
ADVERTISEMENT - CONTINUE READING BELOW
Robert Seña and Isay Alvarez reunite onstage for Skin Deep and we hope to see more projects featuring this talented couple. Robert is a natural comedian while Isay delivers an impressive performance when she sings the lines: "Kaya ko bang gawin ang kanyang hinihiling? / Baguhin ang katawan para sa kanya at hindi para sa akin?" Find out if Isa can make the ultimate sacrifice for her husband.
Dr. Beau (played by Rem Zamora) is the ultimate symbol of physical perfection and one can't help but shudder at the thought that there might actually be plastic surgeons who are as manipulative and scheming as him.
Directed by Nor Domingo, Skin Deep featured performers are seasoned thespians Melvin Lee and Rem Zamora alternating as Dr. Beau; Erik Bisa and Robert Seña alternating as Narciso Dongcan; Glecy Atienza and Isay Alvarez as Isadora Dongcan; Gail Guanlao-Billones alternating with May Bayot de Castro as Amor de Sangre; Mary Ann Espinosa and Bituin Escalante essay the role of Marikit Evangelista; Diana Malahay portrays Happy Fuentes; Phil Noble is Pipay Organza; male model wannabe Charleston Go is Al Gatmaitan alternating with Red Anderson. The ensemble is composed of Onyl Torres, Eric dela Cruz, Neomi Tabanao-Gonzales, Delphine Buencamino, Joan Bugcat, Joseph Grantusa and Giu Comia.
If you've ever looked at a mirror and told yourself, if only I were thinner, prettier, etc, then this comedy musicalis for you.
Skin Deep performances are scheduled Fridays at 2:30 pm and 7:30 pm, and on Saturdays and Sundays at 10 am and 3 pm until March 9, 2008. Tickets are priced at P300. For inquiries and reservations, call the PETA Marketing & Public Relations Office at 725.6244, 410.0821 (direct line), mobile number 0917-8154567, 0918-9354166 or email petampro@yahoo.com
Venue: PETA Theater Center, 5 Eymard (formerly Sunnyside) Drive, New Manila, Quezon City