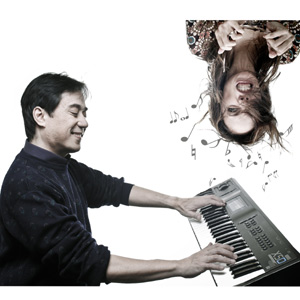 ---
High above the blues-filled streets of Chicago, musicologist Charles Norton sits alone in his apartment with only the company of his greatest friend—his music. Meanwhile, next door, poet and wordsmith Isabel Fox moves in after muddling through a painful divorce.
As fate would have it, these two lonesome souls meet in an unusual turn of events, sparking a heartwarming friendship that blends together the worlds of poetry and music. Throw into this harmonious mix Charles' father, the charismatic George Fox, and Isabel's vivacious mother Helen, and what follows is an endearing story of navigating the path to love as only James Sherman's Romance in D can reveal.
Director Miguel Faustmann, who is both a highly respected actor and set designer in Philippine theater scene, is no stranger to the work of playwright James Sherman. In the past, Faustmann lent his directorial vision to another well-known Sherman romance, the gender-bender, Mr. 80%.
Romance in D is a delightful comedy with a lot of heart and wonderfully touching moments. Faustmann has assembled an immensely talented quartet of actors to comprise his cast, guaranteeing audiences a truly memorable evening at the theater.
Theater luminary Audie Gemora plays musicologist Charles Norton. This is Gemora's return to the non-musical genre after playing title roles in musical smash hits like Man of La Mancha and The Sound of Music. Playing opposite Gemora is Ana Abad Santos-Bitong as Isabel Fox. Ana Bitong once again sets foot on stage as an actor after recently concluding her successful stint as director of the critically acclaimed re-imagination of Hamlet.
Rounding out the cast are theater icons Pinky Marquez and Chinggoy Alonso, as Helen Norton and George Fox. Marquez and Alonso are particularly known for infusing each role they take on with undeniable charm, creating characters audiences truly enjoy, time and time again. Romance in D also marks Alonso's highly anticipated return to the Rep stage since his unforgettable portrayal of King Arthur in Camelot in 1994.
ADVERTISEMENT - CONTINUE READING BELOW
Romance in D opens this Friday, February 29, at the Onstage Theatre in Greenbelt One and continues until March 16 with performances on Fridays and Saturdays at 8:00 pm, and Saturday and Sunday matinees at 3:30 pm. Tickets are at Php550, Php350, and Php 250.


For tickets, reservations and information, call 8870710 or Ticketworld at 891999. Tickets are also available at the REP office located at 2316 Pasong Tamo Extension, Makati City and at the gate before every performance.