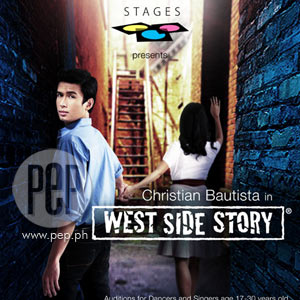 ---
STAGES has chosen Christian Bautista to star in their production of West Side Story, created by Arthur Laurents (book), Leonard Bernstein (music), and Stephen Sondheim (lyrics). The story is adapted loosely on William Shakespeare's Romeo and Juliet and set on the west side of Manhattan, New York City. West Side Story takes place in the 1950s when many Puerto Ricans moved to the Big Apple.
The Bernstein and Sondheim musical explores the rivalry between two teenage gangs of different ethnic and cultural backgrounds. Asia's Pop Idol plays the role of Tony, who used to belong to the gang called The Jets. Christian's character falls in love with Maria, the sister of Bernardo who heads the Puerto Rican gang, The Sharks, rival of The Jets headed by Riff. Anita is Bernardo's girlfriend.
STAGES is now in the process of casting Maria, Bernardo, Riff, Anita, and others, and a strong ensemble of dancers. Aspiring thespians are asked to bring 3R colored photo, resume and minus one CD.
West Side Story will run at the Meralco Theater from September to October 2008.
Interested singers and dancers aged 17-30 years old may call Judith at Tel. No. 818-1111 loc. 225 for inquiries.
Venue: Stand Studio, Brahma Bldg., 172 Mabini St., Addition Hills, San Juan, Manila
Schedule: March 29-30, 2008, 10 am to 5 pm.