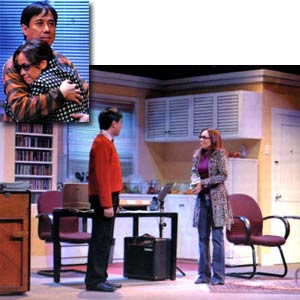 ---
What happens when two lonely, single people who live side by side in mirror-image apartments discover more than the interiors of each other's Chicago pads?


In Romance in D, a play written by James Sherman, audiences will find the quirky, heartbreakingly funny answers to the questions that cosmopolitan yuppies would love to ask...but are sometimes afraid to.

Onstage, Greenbelt 1, is transformed into downtown Chicago—there are two apartment units side by side, one filled with books, music, furniture, and food; the other barely furnished and whitewashed, but otherwise exactly the same as the other. As the audience enters, the set is bathed in blue light and notes of a romantic sonata fill the air—the prelude to a lighthearted, romantic evening.
There are only four characters involved in the play: Charles Norton (Audie Gemora), a musicologist who lives alone with his books and music; and Isabel Fox (Ana Abad Santos-Bitong), a poet with a master's degree who has just separated from her husband. Pinky Marquez plays Helen Norton, Charles' mother, who secretly enters his apartment on weekdays to bring him food while Chinggoy Alonso plays George Fox, Isabel's superfluous wordsmith father, who tries again and again to bring her out of her depression.
Charles and Isabel meet by the "oddest" of circumstances: Isabel tries to kill herself by sticking her head into an oven. Charles, who smells gas, calls the emergency hotline 911 and saves her life. A friendship fueled by intellectual music, coffee, dinners, and highfalutin words ensues, and both tenants discover that they are able to find comfort in each other's company.


The play not only revolves around the budding romance between the two neighbors, but in a happy twist of fate, Romance in D also revolves around the parents of Charles and Isabel. Helen and George are both dedicated parents who seem to have found their perfect match in one another.
ADVERTISEMENT - CONTINUE READING BELOW
The second act opens with simultaneous celebrations of the Norton's Jewish Hanukkah and the Fox's Christmas—both with their own set of family traditions. Despite all the revelry, Isabel becomes disheartened by the insensitivity of her estranged husband. The line uttered by George sums up the loneliness experienced by many urbanites nowadays: "All you need is one reason to live..." With the presence of Charles in her life, Isabel just might find that life is worth living.
Director Miguel Faustmann successfully pulls off the hilarity of the situations, some of which will have the audience roaring with laughter. Not to be missed are the noteworthy performances of Audie and Ana Abad, both directors who return to the limelight to entertain hopeless romantics everywhere. Their romance is what William Shakespeare would probably call a "meeting of the minds."
Although Romance in D is not a musical, music plays a key role in this quaint love story of two intellectuals residing in downtown Chicago.
Repertory Philippines stages Romance in D until March 16, 2008 at Onstage, Greenbelt 1, Makati City. Performances are scheduled on Fridays and Saturdays at 8:00 pm and Saturday and Sunday matinees at 3:30 pm. Tickets are at Php550, Php350, and Php 250.
For inquiries, call 8870710 or Ticketworld at 891999. Tickets are also available at the REP office located at 2316 Pasong Tamo Extension, Makati City and at the gate before every performance.